Leader of the so-called Islamic State Abu Bakr al-Baghdadi has said there will be no retreat from Mosul.
In an audio message he called on the people of Mosul province to fight "enemies of god" and called on suicide fighters to "destroy the cities of the unbelievers".
It comes as US-backed Iraqi forces have moved closer to a town south of Mosul where aid groups and regional officials say the so-called Islamic State group has executed dozens of prisoners.
A military statement said security forces advanced to the edge of Hammam al-Alil, a thermal water resort, after an elite unit breached the eastern limits of Mosul, the ultra-hardline group's last major city stronghold in Iraq.
The battle that started on 17 October with air and ground support from a US-led coalition is shaping up as the largest in Iraq since the US-led invasion of 2003.
Mosul still has a population of 1.5 million people, much more than any of the other cities captured by IS two years ago in Iraq and neighbouring Syria.
The United Nations has said the Mosul offensive could trigger a humanitarian crisis and a possible refugee exodus if the civilians inside in Mosul seek to escape, with up to one million people fleeing in a worst-case scenario.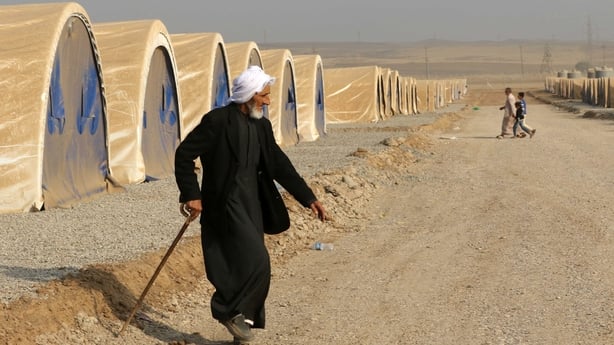 The International Organisation for Migration said nearly 21,000 people have been displaced since the start of the campaign, excluding thousands of villagers taken into Mosul by retreating jihadists who used them as human shields.
The UN cited reports yesterday that IS, which is also known as ISIL, is attempting to displace Hammam al-Alil's estimated population of 25,000 for use as human shields and protection against air and artillery strikes.
The town, 15km south of Mosul, had a pre-war population of 65,000, a local official said.
Aid organisations, local officials and Mosul residents have cited reports that IS has executed dozens of people in Hammam al-Alil and barracks nearby on suspicion of planning rebellions in and around Mosul to aid the advancing troops.
Security forces advancing north on the western bank of the Tigris River recaptured five villages today, the closest of them just 5km from Hammam al-Alil, according to military statements.
Just across the river from those forces lie the ruins of the ancient Assyrian city of Nimrud, which the Iraqi government says was bulldozed last year as part of IS's campaign.
Army troops heading north on that side of the Tigris have yet to reach the area.