ASTI President Ed Byrne has indicated that if no agreement is in sight by the end of next week on the issue of entry pay levels for new recruits a "contingency plan" must be considered to keep schools open.
He said he is concerned that contingency plans "are not good" should teachers extend the strike from 7 November due to a separate dispute over pay for supervision and substitution.
Speaking on RTÉ's News at One, Mr Byrne said an offer to agree to give teachers permanency after two years, instead of four - as non-Association of Secondary Teachers, Ireland members are allowed - might allow teachers to suspend the planned strike action on 7 November.
This would be an improvement on terms for more recently recruited teachers, but Mr Byrne said he was "musing" and "flying a kite" rather than making an offer to the Department of Education.
He said teachers will aim to turn up on 7 November to do their core role, which is teaching, and he does not believe they should be deducted salary, as indicated may happen by the Department of Education.
The department has said that only ASTI teachers working in schools that are forced to close from 7 November will have their salaries stopped.
A department spokesperson said that ASTI members working in schools that open as normal on that date will continue to be paid, even if they are not engaging in the supervision of students.
Yesterday, the department issued instructions to schools to remove from the payroll any teacher who has indicated that they are not available for supervision and substitution duties.
Hundreds of schools say they will be forced to close for health and safety reasons as a result.
Almost 70% of second-level schools are closed today as ASTI members strike in pursuit of equal pay for newly-qualified teachers - the first in a series of seven days of strike action on the issue.
All schools will reopen again tomorrow before closing for the midterm break.
The General Secretary of the ASTI Kieran Christie, has said his members regret enormously the action taken today, but there is no reason for the inequality of teachers pay to continue. 
Speaking on RTÉ's Six One, Mr Christie said that his members want the issue to be addressed immediately. 
He questioned whether it is Government policy to "embed this level of inequality right across the public sector."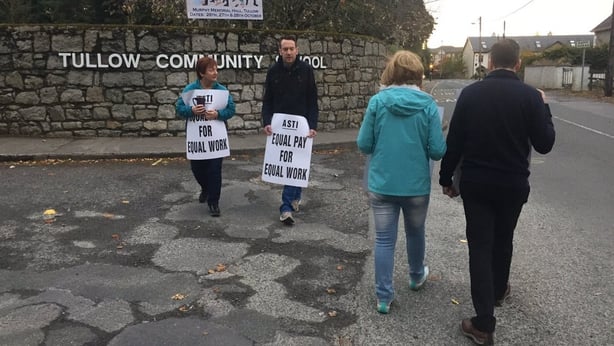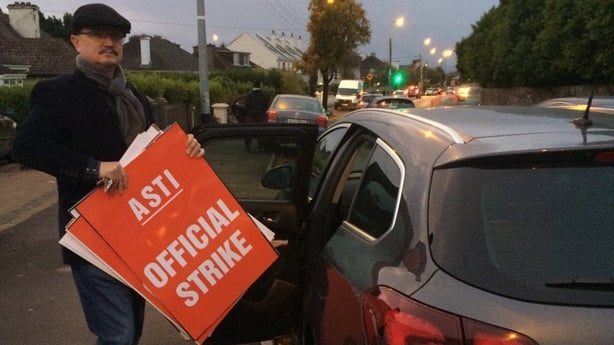 The ASTI has instructed its members to turn up for work as usual on 7 November, the first Monday after next week's midterm break.
It said its members are not on strike on that date and are available for what it has called "normal teaching duties".
The Department of Education has also confirmed that ASTI teachers who opted out of supervision and substitution duties under the previous collective wage agreement, known as the Haddington Road Agreement (HRA), will also have their salaries stopped if their school closes from 7 November.
Between 1,000 and several thousand teachers chose to opt out of the scheme as allowed under the HRA and forfeited payments as a result.
Some of these teachers have criticised the fact that they will now be penalised for a legitimate choice that was offered to them under that agreement.
A department spokesperson told RTÉ News that since the ASTI as a whole was withdrawing from supervision and substitution duties, there was now "no scheme for those members to opt out of".
The department has also reiterated that if ASTI members agree to work the so-called Croke Park hours then they will be paid for supervision.
The Croke Park hours are an additional 33 hours that under the Lansdowne Road Agreement (which extended the HRA until 2018) all public sector workers have agreed to work.
Taken as a whole, this additional productivity is worth the equivalent of an additional 13 to 14,000 full-time posts across the public sector.
Meanwhile, the President of the National Parents' Council Post Primary has warned that an ongoing strike will harm students in the long run.
Speaking on RTÉ's Morning Ireland, Paul Mooney said that closing schools in November could have a negative knock-on effect for exams and career prospects.
This impact, he said, was just as important as equality of pay. 
"If the school days are going to be shortened, the school days available to them, that has to have an effect on their exam results," said Mr Mooney. "There's a knock on effect to this, this could be career limiting, it could mean that children have to repeat their exams, repeat their Leaving Cert.
"That's very important, it's just as important as the equality of pay because this has an effect on their life-long career prospects."
We need your consent to load this rte-player contentWe use rte-player to manage extra content that can set cookies on your device and collect data about your activity. Please review their details and accept them to load the content.Manage Preferences