French government officials have declared the operation to clear the Calais 'Jungle' camp a success despite charities on the ground reporting that hundreds of child refugees had been left unregistered and with nowhere to go.
Pascal Brice, head of the Office for Refugees and Stateless People, said everybody leaving the camp had been registered at the processing centre on the edge of the site.
But charities working with the refugees immediately contradicted the official declaration.
They claimed the warehouse used to register camp dwellers had been closed before many unaccompanied children had been processed and transported to alternative accommodation elsewhere in France.
Some 4,404 migrants and refugees and around 1,200 minors have passed through the registration warehouse since the beginning of the operation, the French Interior Ministry said.
A spokeswoman for the local prefecture said that the rate of demolition would be scaled up tomorrow with larger machinery moving in.
The Save The Children charity said it was "extremely concerned" about minors who had not been registered as the site was cleared and tents were set alight by departing migrants.
Around 100 children were waiting to be processed when the warehouse was "swiftly" closed, the charity said, adding that there were hundreds with nowhere to go.
The Help Refugees charity estimated that about 300 children were turned away when the registration centre closed and many were standing under a nearby bridge not knowing what to do.
"The authorities need to get them into safety now," it tweeted.
Children refused entry to the safety of the container camp and forced to sleep outside. This is not the protection promised #dubsnow pic.twitter.com/pKgkUCraeV

— HelpRefugeesUK (@HelpRefugeesUK) October 26, 2016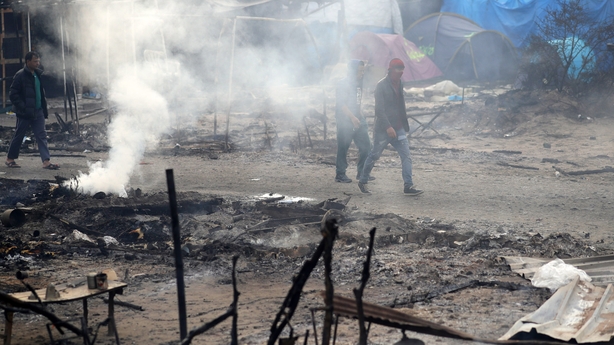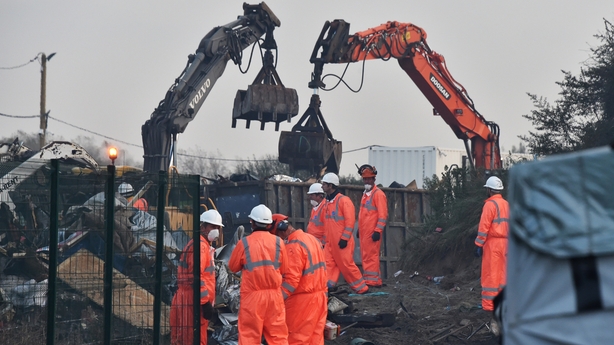 "The container camp where registered minors are sleeping is full," said Samuel Hanryon, spokesman for the Médecins Sans Frontières aid group.
With much of the Jungle destroyed by fires, "there is simply nowhere for unregistered minors to go. They are wandering around, lost, wondering where they will spend the night," he said.
Head of the France Terre d'Asile charity Pierre Henry, whose organisation is tasked with the care of the underaged migrants, confirmed the registration of minors had been interrupted.
"There is no more space in the container camp," Mr Henry said.
A park of specially adapted shipping containers near the Jungle is being used to house upwards of 1,000 unaccompanied children, whose fate is in the hands of the French and British authorities.
'We need this demolition to stop so children can be kept safe.' Follow our team member @DorothySang for updates on the ground in #Calais. pic.twitter.com/StTiT5NcfZ

— Save the Children UK (@savechildrenuk) October 26, 2016
French Interior Minister Bernard Cazeneuve said yesterday that all minors "with proven family links in Britain" would eventually be transferred there.
British interior minister Amber Rudd on Monday pledged to bring eligible children from France to Britain "as quickly and as safely as possible", without specifying numbers.