Industrial action by the Association of Secondary Teachers in Ireland will go ahead after last ditch talks with the Department of Education end without agreement.
ASTI members are to strike for seven days between now and December in a dispute over pay for newly-qualified teachers and payment for supervision and substitution duties.
They will withdraw from supervision and substitution from 7 November.
In a statement the department said 507 schools around the country will be closed tomorrow.
It said both sides have agreed that talks will continue and further contacts will take place on Friday with a view to arranging more talks next week.
Speaking after today's discussions, ASTI President Ed Byrne said that large differences remain and progress has been slow, "almost static I would say".
He added that the shutting of schools is the department's decision.
The department earlier issued a circular to school managers dealing with the implications of the industrial action scheduled by the ASTI - including removal of teachers from the payroll.
The ASTI described the move as very provocative and reiterated that its members are available for all paid work.
Speaking on RTÉ's Six One, Minister for Education Richard Bruton described it as a normal approach if teachers withdraw from core duties, which he said supervision is.
He said he is disappointed that the action is going ahead and there is an offer on the table for newly recruited teachers and it would be unfair and unequal to have an agreement with a union outside the Lansdowne Road Agreement.
The Lansdowne Road Agreement was negotiated to reverse pay and pension cuts for public service workers imposed since 2008. It extends the Haddington Road Agreement until 2018.
Addressing the indefinite closure facing schools as a result of ASTI teachers withdrawing from supervision and substitution duties, Mr Byrne said if the Government paid ASTI teachers, as they are paying TUI and INTO teachers, and as they intended to pay external personnel, then ASTI teachers would do it.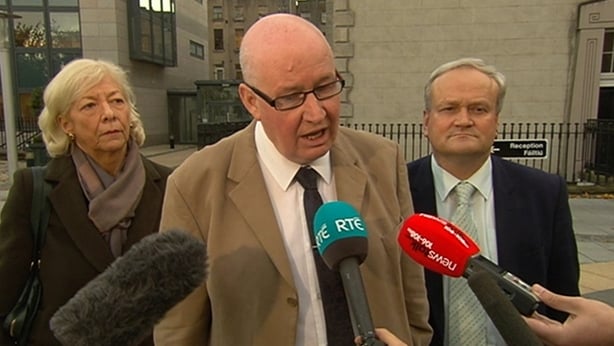 Mr Byrne said it was worrying that the Government seemed to think that "everything" was better than agreeing with them.
In relation to the ASTI withdrawal from supervision and substitution duties, the department's circular states that it is a matter for school managers to decide whether their school can open without health and safety risks while teachers are refusing to carry out those duties.
The circular outlines the arrangements to be made to remove from the payroll all teachers covered by the ASTI directive who have not confirmed that they are available for the full range of duties including supervision and substitution from 7 November.
It states that teachers who wish to remain on the payroll must confirm their availability for the full range of duties - including supervision and substitution - from 7 November onwards by submitting a completed form to the principal as soon as possible.
It confirms that teachers who do not confirm such availability will not be paid for the duration of the closure.
The circular also clarifies that all staff other than teachers in the school will remain on the payroll even if the school is forced to close because of the withdrawal of teachers from supervision and substitution duties.
It says that an opt-out provided for under the supervision and substitution scheme will not apply to ASTI members covered by the union's directive to withdraw.
Teachers who do not confirm their availability in writing for the full range of duties including supervision and substitution must be recorded as absent.
Both the Government and school managers have acknowledged that without secondary teachers doing such duties, 507 schools out of 735 will have to close tomorrow for health and safety reasons.
The ASTI has urged members to turn up for work and to be available for their normal duties on 7 November.
In a circular issued to ASTI school stewards, General Secretary Kieran Christie says members should present for work and be available for their normal teaching duties - irrespective of whether the school management indicate that the school will operate as normal or not.
He says the union is taking legal advice regarding the department's notification that all ASTI members will be taken off the payroll where school management require a school to remain closed due to a lack of sufficient contingency arrangements.
He tells the school stewards that the ASTI has committed not to impede the operation of contingency arrangements in any way.
However, he notes that a request by the department that ASTI-member principals would not be prevented under the terms of the ASTI directive from operating contingency arrangements has not been acceded to by ASTI.
He says that ASTI members have sought guidance in recent days should student disciplinary issues arise in the context of the operation of a contingency plan.
He says that in that context whereby such issues are brought to the attention of ASTI members, they should be dealt with normally under the school's code of behaviour.
We need your consent to load this rte-player contentWe use rte-player to manage extra content that can set cookies on your device and collect data about your activity. Please review their details and accept them to load the content.Manage Preferences

Humphreys expresses disappointment over strike action
Mr Bruton's Cabinet colleague Heather Humphreys also expressed disappointment that the industrial action will go ahead.
Speaking at an event at a secondary school in west Dublin, the Minister for Arts said there was a deal on offer to ASTI members which would see pay increases of 15-22% for new entrant teachers with further benefits in terms of working conditions and a route to further increases through the Public Pay Commission which has now been set up.
She said the path for pay restoration was through the Lansdowne Road Agreement and she asked the ASTI to continue to engage to try to find a resolution.
Schools managements have been putting contingency plans in place ahead of tomorrow's action, while there will be a knock-on effect for employers as many parents take time off work to look after their children at home.
There are also concerns that the schools may not be able to reopen at all after the mid-term break, when ASTI members withdraw from supervision and substitution duties.
Members of the Teachers' Union of Ireland, the other secondary-school teachers' union, are not involved in the action, but say they will not do the work of their ASTI colleagues.
Many may be reluctant to cross the picket line.
Meanwhile, officials from the Association of Garda Sergeants and Inspectors and the Department of Justice will hold more discussions today in relation to pay and negotiating rights ahead of planned industrial action by gardaí on Friday.
We need your consent to load this rte-player contentWe use rte-player to manage extra content that can set cookies on your device and collect data about your activity. Please review their details and accept them to load the content.Manage Preferences