Thousands of refugees and migrants have packed their bags as the first day of the Calais Jungle mass exodus draws to a close, French officials believe.
A total of 2,318 people, including an estimated 400 minors, passed through the registration centre on the fringe of the squalid camp.
Around 45 buses have been sent to regions all over France except Paris and Corsica.
Interior Minister Bernard Cazeneuve said: "1,918 adults left Calais on board 45 buses to go to 80 reception and orientation centres situated in 11 regions of France and the minors have also been "taken to provisional reception centres" within the camp ahead of their transfer elsewhere.
Crowds carrying rucksacks, holdalls and wheelie-bags, many with scarves over their faces, queued to register for accommodation centres elsewhere after being told they must leave the camp or risk arrest and deportation.
People in the queues said they had no idea where they were going but many seemed resigned to leaving the camp, where demolition work is expected to begin tomorrow.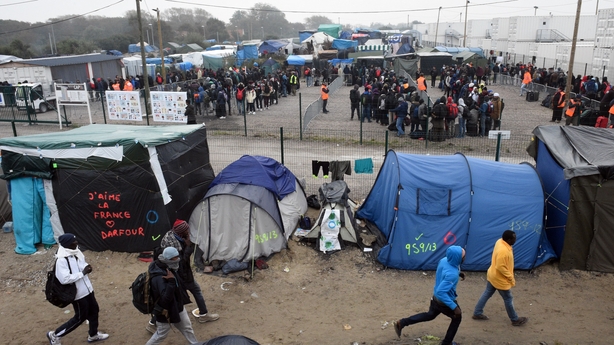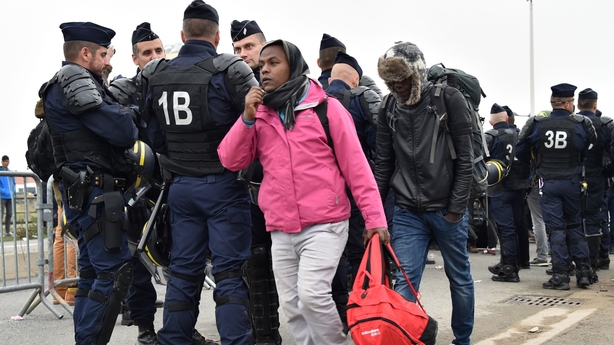 French officials celebrated the peaceful start to yet another attempt to dismantle the camp, which has become a symbol of Europe's failure to respond to the migration crisis as member states squabble over who should take in those fleeing war and poverty.
But some aid workers warned that trouble overnight, when some migrants burned toilet blocks and threw stones at riot police in protest at the camp's closure, indicated tensions could escalate.
However, small scuffles broke out and punches were thrown, most people waited patiently, crammed inside the barriers, which police then widened to give them more space.
The French government says it is closing the camp, home to 6,500 people, on humanitarian grounds. It plans to relocate them at 450 centres across France.
Many of the migrants are from countries such as Afghanistan, Syria and Eritrea and had wanted to reach Britain, which is connected to France by a rail tunnel and visible from Calais on a clear day.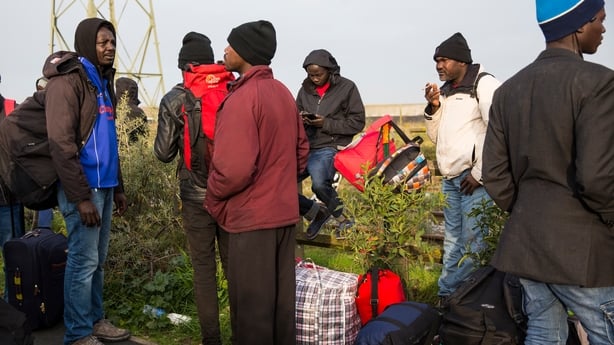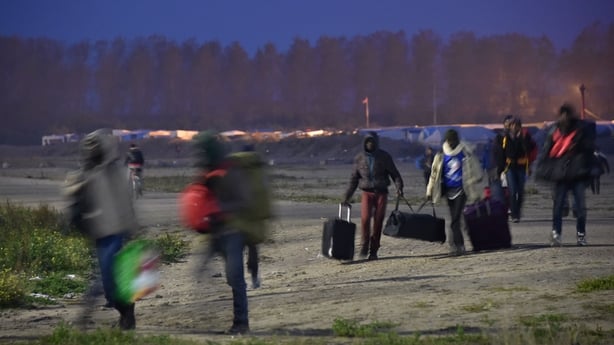 Wrapped up in the cold of the early hours of the morning, hundreds of migrants are being moved out of the "Jungle" camp in Calais. pic.twitter.com/UiFdXTihJZ

— RTÉ News (@rtenews) October 24, 2016
In Pictures: Calais 'Jungle' evacuation
Some had wished to join up with relatives already there and most had planned to seek work, believing that jobs are more plentiful than in France.
Britain, however, bars most of them on the basis of European Union rules requiring them to seek asylum in the first member states they set foot in.
Even as the process began, the fate of about 1,300 unaccompanied child migrants remained uncertain.
Mr Cazeneuve urged Britain last week to step up efforts to identify and resettle child migrants.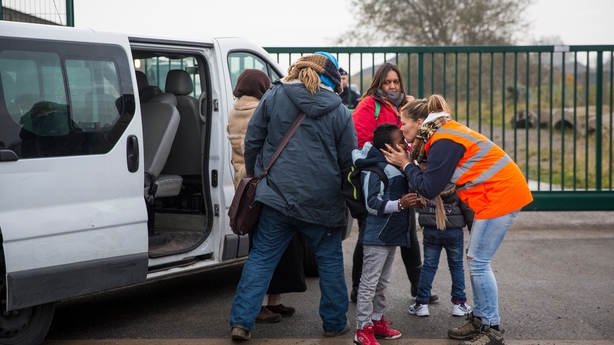 London has given priority to children with family ties and discussions are under way with Paris over who should take in minors with no connections.
Britain's Home Office said it had reluctantly agreed to suspend the transfer of more children, on the request of the French authorities.
For now, children have been moved to converted shipping containers at a site on the edge of the Jungle before they are interviewed by French and British immigration officials, a spokesman for the UN refugee agency in Geneva said.
Armed police earlier fanned out across the Jungle as the operation got under way.
Interior Ministry spokesman Pierre-Henry Brandet said that authorities had not needed to use force and that the large police presence at the camp was just for security.
Aid workers went from tent to tent, urging migrants to leave the camp before heavy machinery is rolled in to start the demolition.
French President Francois Hollande announced last month that the camp will close before winter, with its estimated 6,500 inhabitants dispersed around the country.
The site has become a symbol of his government's failure to tackle Europe's migrant crisis and a target of criticism from conservative and far-right rivals seeking to unseat him.
An emergency legal bid by several aid groups to delay the closure of the Jungle camp was rejected by a court in Lille earlier last week.
Despite efforts to reduce numbers by dismantling the slum's southern section earlier this year, migrants from countries including Sudan, Syria and Eritrea returned to the camp.
The Jungle closure plan will see people being held at more than 160 reception centres in regions across France for up to four months while authorities investigate their cases.
Those who do not seek asylum will be deported. The move has prompted vehement protests from many local conservative and far-right politicians, saying they fear the consequences of having migrants in their towns.
But Mr Hollande has sought to adopt a stronger stance and called for more solidarity amid the chaos that has gone on around the camp.
We need your consent to load this rte-player contentWe use rte-player to manage extra content that can set cookies on your device and collect data about your activity. Please review their details and accept them to load the content.Manage Preferences