A 174-tonne piece of jade worth millions of euro that was uncovered in Myanmar will have to stay where it is for now because its owners do not have equipment strong enough to move it.
The 5.8 metre-long stone was discovered by miners in northern Kachin state last week, buried up to 60m deep inside a mountain.
"When the edge of the stone was scratched we could see the quality of the jade inside - the quality is very good," said local politician Tint Soe.
While some have estimated the rock could be worth more than $170 million (€155m), Mr Tint said its value was probably closer to $5.4 million.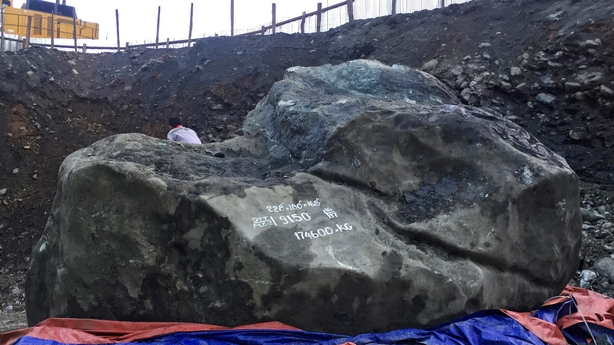 Jade is traditionally used for charms and bracelets, but the owners of this stone have not yet decided what it will be used for.
"Currently the jade stone cannot be moved as there is no machine that can do it here, and no road either," he said.
Myanmar, formerly known as Burma, is the source of nearly all of the world's finest jadeite, a beautiful green stone highly prized in neighbouring China where it is known as the "stone of heaven".
Companies linked to the former junta dominate the trade, which Global Witness valued at around $31 billion in 2014 alone - equivalent to around half the country's GDP.
Mining of the stone can extract a high human cost, with fatal mine collapses common. Around 100 people died in a major landslide in November last year.
Most of the precious stone is smuggled across the border into China, where it is believed to bring luck and good health.