The General Secretary of the Teachers' Union of Ireland has said that advertising for parents to supervise during upcoming strike days at secondary schools is "fraught with difficulty".
A separate teachers' union, the Association of Secondary Teachers in Ireland (ASTI) has planned seven days of strike action, which is due to begin next week.
ASTI leaders met with officials at the Department of Education today ahead of its planned strike action in protest over pay and conditions.
The talks ended at lunchtime and will resume again next Monday, 24 October.
The discussions were aimed at averting industrial action, which could potentially see hundreds of schools close over the coming weeks.
It is understood the Department of Education asked the ASTI to resume working additional hours, known as the 'Croke Park hours', in return for restoration of payments for supervision and substitution duties.
The union has already rejected a similar request made over the summer.
In addition to seven days of strikes between next week and December, ASTI members plan to stop supervision and substitution duties from Monday 7 November.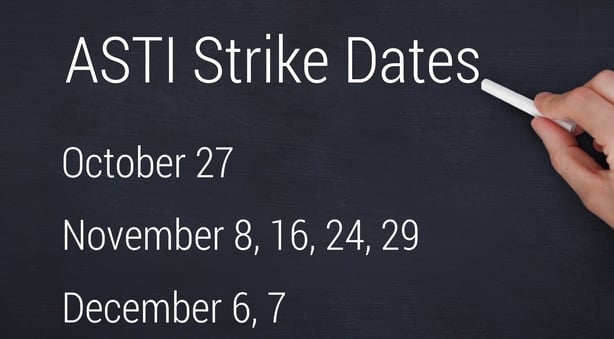 This move is likely to close hundreds of schools indefinitely.
In an effort to avert this crisis, secondary schools are to advertise for supervisors in national papers.
Parents will also receive application forms in the post.
However, the Department of Education has already said it could take up to nine weeks to get personnel in place.
Applicants will have to be trained and garda vetted.
TUI General Secretary John MacGabhann said there are technical difficulties of advertising, selection, training and vetting.
Speaking on RTÉ's Today with Sean O'Rourke, he said: "There's the obvious technical difficulty of an advertising process, a selection process because very clearly you cannot take all comers.
"There is the vetting issue which is not, by any means, a simple one, because we've had recent experience of it where teachers who had taken up new appointments experience delay in having their vetting come through."
There are roughly 200 schools where teachers are members of both the ASTI and the TUI, he said.
The board of management, he said, would have to make a decision on whether those schools can open, but Mr MacGabhann said that no member of the TUI will engage in any of the work normally undertaken by an ASTI colleague and they will not be providing substitution.
The TUI executive will meet on Friday and advise members.
He added: "We cannot instruct our members not to pass the picket because we wouldn't be compliant with legislation.
"What we can say is that, in order to secure a day's pay, you have to be available for work. If you chose not to be, you do run the risk of a day's pay."
Mr MacGabhann said that the TUI would "absolutely protect" from disciplinary action any member who chose not to pass the picket.
Gardaí say there is currently no backlog in the National Vetting Bureau. They say there is a five-day turnaround for 80% of e-vetting applications, with paper applications taking four to five weeks.
LRA collapse would be 'disaster' - Howlin
Labour leader Brendan Howlin has said if the Lansdowne Road agreement collapses, it would be a disaster.
However, Mr Howlin said the architecture of the agreement allowed for wriggle room to facilitate specific issues such as those of gardaí and teachers.
He told RTÉ's Drivetime it was for that reason the Government could negotiate with the TUI and the Irish National Teachers Organisation with an agreement on issues like substitution and supervision.
Mr Howlin said similarily the Government negotiated bilateral agreements, under the architecture of the LRA, with the firefighters.
He said it was very worrying that a queue of public sector unions are coming forward and making new demands and new claims.
Mr Howlin said there is great unease among public servants who are worried that "some will be ahead of them in the queue".
We need your consent to load this rte-player contentWe use rte-player to manage extra content that can set cookies on your device and collect data about your activity. Please review their details and accept them to load the content.Manage Preferences