The head of the National Parents Council Post-Primary has said that he does not think it is viable to have parents fill in at schools during upcoming strike days by members of the Association of Secondary Teachers Ireland.
Members are to strike for seven days between now and December in a dispute over pay for newly-qualified teachers and payment for supervision and substitution duties.
They will also withdraw from supervision and substitution duties from 7 November.
NPCPP President Paul Mooney this morning said he did not think proposals to have parents fill in were viable.
He said parents have not yet been asked, but he did not see how the logistics could possibly work.
He said there were issues of training and vetting to be considered, as well as issues concerning local communities passing pickets, while it would also cause considerable disruption to parents.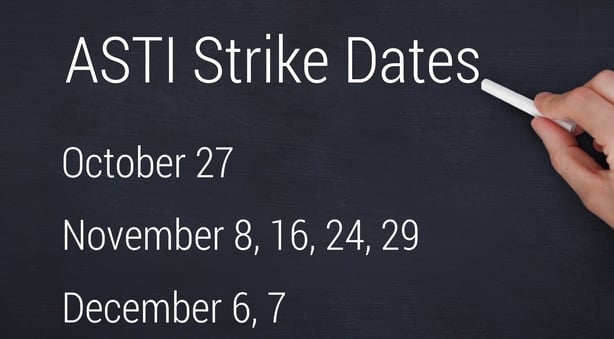 Speaking on RTÉ's Morning Ireland, Mr Mooney said: "Somebody is going to have to take time off and probably out of their annual leave. So we're simply not seeing this as a possibility."
Mr Mooney said that children are basically being used as pawns in the disagreement and he does not think it is acceptable.
He said that if members of the Teachers' Union of Ireland were satisfied with the present situation he could not understand why the gap with the ASTI was "so enormous".
He said that there is time for dialogue before the first strike day and that the Department of Education and the ASTI should be sitting down "24 hours a day to sort this out".
Mr Mooney added that this dispute appears to have begun with plans for the new Junior Cert, which now appear to have been forgotten.
Meanwhile, ASTI President Ed Byrne has said that he thinks talks surrounding the Junior Cycle with Government on Wednesday will be extended to include the union's planned industrial action.
Speaking on RTÉ's News At One, Mr Byrne said that he has always thought there was a solution to the problem, but the Government needed to drop the mantra that the Lansdowne Road Agreement "is the only show in town".
He said the union has not asked for the complete restoration of pay for all members, and the issue surrounds a small cohort of teachers who started work in 2011 and who are paid significantly less.
"It is not in the ASTI's wish to be shutting schools, or to have any part in shutting schools," he said.
The General Secretary of the Joint Managerial Body, the group that represents boards of management in secondary schools, has said that it is in a very unenviable place and will be presented with huge difficulties with teachers engaging in industrial action.
Speaking on RTÉ's Drivetime, John Curtis said: "The difficulty that we have is that the pillars of teacher co-operation on the ground and sufficient time-frame for us to organise something means this is going to be very difficult for us.
"It's inevitable now that there will be school closures in November, after the mid-term break, and it's in that context that it's very important that all the relevant parties engage in meaningful discussions as soon as possible."
He said that some schools will remain open and others will not, describing it as inequitable, adding that students are in the firing-line.