The United States and Britain warned that Western allies were considering imposing sanctions against economic targets in Syria and Russia over the siege of Aleppo.
Mr Kerry briefed representatives of the UK as well as France, Germany and Italy in London today following his talks with Russia in Switzerland yesterday.
US Secretary of State John Kerry branded the bombardment of civilians in the Syrian battleground city as "crimes against humanity" and British Foreign Secretary Boris Johnson urged Moscow to show mercy.
"There are a lot of measures that we're proposing including extra measures on the regime and their supporters," Mr Johnson said, standing alongside Mr Kerry after talks in London.
"These things will eventually come to bite the perpetrators of these crimes, and they should think about it now," he warned.
Mr Kerry, meanwhile, warned that US President Barack Obama had not taken any option off the table in terms of tackling Syrian strongman Bashar al-Assad's assault on his own people.
He too raised the idea of sanctions but he played down the possibility of military action and insisted that it was his and Mr Johnson's duty to "exhaust" all diplomatic options.
There John Kerry had met his Russian counterpart Sergei Lavrov, and while afterwards there was talk of ides it seems there were no concrete proposals.
"We are discussing every mechanism available to us but I haven't seen a big appetite from anyone in Europe to go to war," Mr Kerry said.
"I don't see the parliaments of European countries ready to declare war," he said.
"Let me make it clear," added Mr Kerry. "We are considering additional sanctions and... President Obama has not taken any option off the table."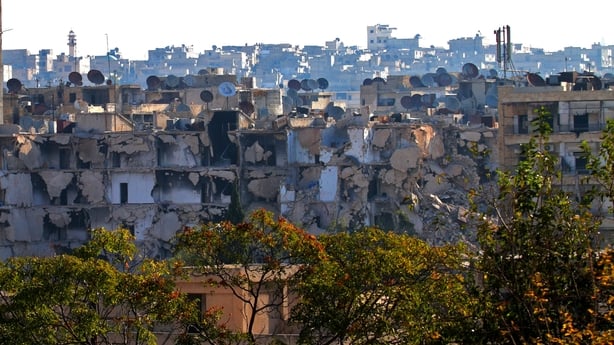 French Foreign Minister Jean-Marc Ayrault said stopping the bombardment of Aleppo took precedence during the talks.
"We see that the regime along with Russian support has other objectives," he said following the meeting.
"We are always ready to speak with the Russians and with the Iranians but we demand that the precondition is stopping the bombardment."
Mr Ayrault did not confirm whether a no-fly zone over Aleppo was on the table.
"We have tackled many initiatives, we have not finalised everything but there is broad consensus on the necessity for pressure (to stop the bombardments)," he said following the meeting.