The United States, Russia and Syria's neighbours discussed new ideas for reviving a ceasefire in the war-torn country at talks today in Switzerland, Washington's top diplomat said.
US Secretary of State John Kerry said officials would be in contact again as early as Monday to flesh out a new agenda, but refused to reveal details of the initiatives.
Mr Kerry described the meeting as a "brainstorming" session and that, despite tensions between the parties, had not descended into rancour, with all agreeing on the urgency of the crisis.
"I would characterise this as exactly what we wanted," he told reporters at the Lausanne hotel where he met Russian, Iranian, Saudi, Turkish, Egyptian, Jordanian, Iraqi and Qatari envoys.
Mr Kerry welcomed what he said was "a very candid, first time discussion, as open and free-wheeling as this, with all of the key parties at the table simultaneously".
"There were some difficult moments, where there was obviously tension, but everybody was constructive," he said.
After the Lausanne meeting, Mr Kerry was to fly on to London to brief his European allies tomorrow on the new diplomatic path.
Earlier, Mr Lavrov has said he has "no special expectations" for today's meeting. A senior US State Department official said he foresaw no major announcement at the end of the day.
"This is going to be, as it has been now for several years, a very difficult process," the US official said.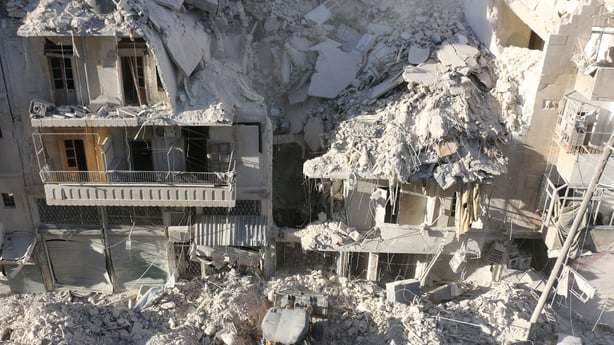 Meanwhile, Turkish-backed fighters were advancing on the northern Syrian town of Dabiq today.
Turkey launched an unprecedented operation inside Syria on 24 August, helping Syrian rebels to rid its frontier of IS jihadists and Syrian Kurdish militia.
In the operation's early weeks, Jarabulus and Al-Rai became the first two major settlements to be captured from the jihadists.
The Syrian rebels, supported by Turkish planes and tanks, seized a strategic hilly region from the so-called Islamic State and were now only around 1.5kms from Dabiq, according to the British-based Syrian Observatory for Human Rights.
"Two hours ago, the rebels started their attack to control Dabiq. The rebels came from Al-Rai," it said.
Observatory head Rami Abdel Rahman said the advance was backed by heavy artillery from Turkish-backed forces.