New figures from the National Office for Suicide Prevention show that more than 480 people died by suicide in 2013.
Of these, 80% were men, reflecting a persistent high male-to-female ratio.
In its Annual Report for 2015, the NOSP said that confirmed figures from the Central Statistics Office indicate there were 487 deaths by suicide in 2013.
Since 2007, there has been an increase in the rate of suicide, although more recent figures suggest a levelling off of that increase.
While overall rates for suicide in Ireland are relatively low by European comparison, the Health Service Executive said rates among people under 25 are a significant concern.
The report also showed that last year more than 8,790 individuals were involved in self-harm presentations at hospitals around the country.
While self-harm rates also seem to be stabilising, the report noted the rate is 9% higher than in pre-recession 2007.
The CSO provides rates on deaths in Ireland in two forms; by year of registration and year of occurrence.
The NSOP's 2015 report is focused on the 'year of occurrence' data with 2013 being the most recent available. Data for 2014 and 2015 are also included in the report but these figures are provisional "due to the data-collection process" in Ireland.
The CSO's national mortality data includes deaths by suicide, but the NSOP noted that a proportion of deaths which are classified as undetermined are also deaths by suicide and it is not possible to estimate those figures.
Self-harm figures are gathered by the National Self-Harm Registry Ireland and are based on the data collected by people presenting to emergency departments as a result of self-harm.
Minister of State for Mental Health and Older People Helen McEntee said suicide prevention is everyone's concern and while she welcomed the stabilisation of suicide and self-harm rates, she said "every death is one too many".
Last year the Government launched a strategy to reduce suicides and Ms McEntee said it is committed to implementing Connecting for Life and reaching its 10% target for the reduction in suicide by 2020.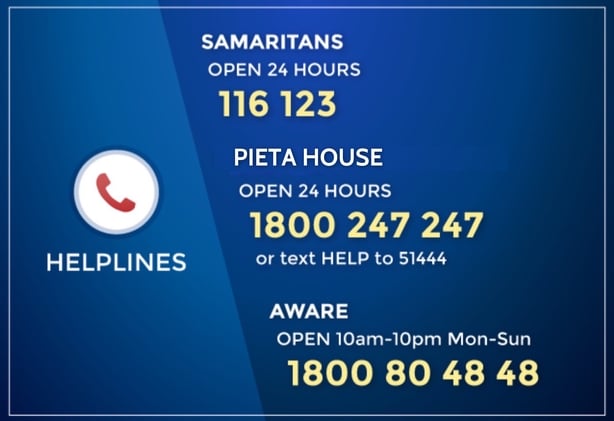 NOSP Director Gerry Raleigh said while there has been a drop in suicide rates, it is not enough and we have to try to improve our services.
He said more research must be done to understand what is happening, particularly among young men, in a more proactive way.
Mr Raleigh said he is hopeful that that the national target of a 10% reduction by 2020 will be reached.
"I am confident that we will reach that target and surpass it, if the actions that are set out in our national strategy, Connecting for Life, are seen through. And our early indications are that people who have signed up to deliver have gone about their commitments very actively and very energetically. So I am full of hope".
Mr Raleigh also said that research points to a number of directions of people at risk including young people who have mental health problems, those from the LGBT community who are trying to come to terms with their sexuality, those who are homeless, and people from the Travelling community.
"While the number of deaths by suicide and the amount of people engaging in self-harm appear to have levelled off since 2012, there are still vast numbers of people in crisis across the country," said Pieta House in a statement.
"487 deaths by suicide are 487 too many and we of course will continue to play our part in helping to reduce suicide rates by 10% by 2020, as set out by the Government in the Connecting For Life strategy," added the statement.
We need your consent to load this rte-player contentWe use rte-player to manage extra content that can set cookies on your device and collect data about your activity. Please review their details and accept them to load the content.Manage Preferences