At least 17 people, most of them rebels, were killed in a car bomb blast at an opposition checkpoint in the northern Syrian province of Aleppo, a monitor has said.
The blast hit near the town of Azaz, close to the border with Turkey, the Britain-based Syrian Observatory for Human Rights said, adding that 14 of the dead were rebel fighters.
It was unclear whether the three others among the dead were civilians or rebels.
The attack injured dozens and the monitor said the toll could rise further because of the number of people with serious wounds.
The checkpoint was run by the Shamiya Front rebel group, which is active in Aleppo province, and was on the road to the Baby al-Salama crossing.
The so-called Islamic State group has regularly targeted rebel factions with bomb attacks, including a 6 October attack at a border crossing in neighbouring Idlib province that killed 29 rebels.
More than 300,000 people have been killed in Syria since the conflict began with anti-government protests in March 2011.
The attack comes after the Syrian government partially approved a United Nations aid plan for October, but not its request to deliver assistance to rebel-held eastern Aleppo.
Syria has given a green light for convoys to 25 of 29 besieged and hard-to-reach areas across Syria, diplomats said this morning.
The UN requested access for the convoys in late September, expecting approval by 30 September for the month of October.
The decision comes as Russia said there is international disarray over how to end the civil war in Syria.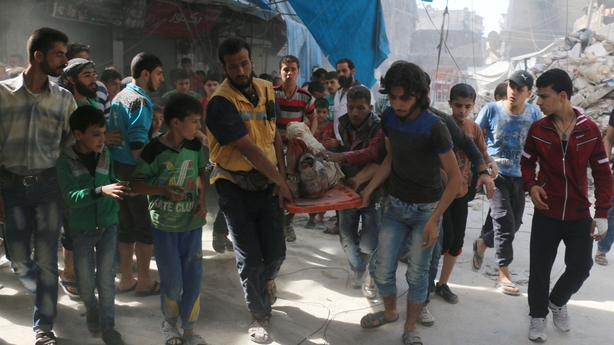 Russia's ambassador to the UN, Vitaly Churkin, said he hoped progress could be made this weekend when US Secretary of State John Kerry and Russian Foreign Minister Sergei Lavrov resume talks on Syria that were suspended earlier this month.
Mr Churkin expressed regret at civilian casualties over his country's air campaign in Syria.
Yesterday, New Zealand gave the 15-member United Nations Security Council a draft resolution that would demand an end to all attacks that may kill civilians in Syria, particularly air strikes in Aleppo, just days after Russia vetoed a similar text.
Russia on Saturday vetoed a French draft resolution that would have demanded an end to "all aerial bombardments of and military flights over Aleppo city".
A similar rival Russian text, which did not include that demand, was voted on straight after the French text, but failed to get enough votes.
The Syrian government launched an assault to capture rebel-held areas of Aleppo last month with Russian air support and Iranian-backed militias, a week into a ceasefire agreed by Washington and Moscow.
More than 250,000 people are trapped under siege in eastern Aleppo.
The New Zealand draft text was likely to be discussed by council envoys at a lunch with UN Secretary-General Ban Ki-moon today, diplomats said, adding that the aim was to see if a vote could be taken within a week or so.
A UN resolution needs nine votes in favour and no vetoes to be adopted. The veto powers are the United States, France, Britain, Russia and China.
"The council has a responsibility to try to address what is clearly the biggest issue on its agenda and with the level of killing and destruction that is going on just to give up seems to us not to be an acceptable course of action," New Zealand's UN Ambassador Gerard van Bohemen said.
"The aim on this one is to make a practical difference. We know resolution of themselves don't do that, but if it helps people make decisions to change their behavior then it would be useful," he said.
Separately, diplomats said Canada was pushing for the 193-member UN General Assembly to be briefed on Syria next week.