The Association of Secondary Teachers Ireland has voted overwhelmingly to take industrial action up to and including strike action over lower pay for newly-qualified teachers and what the union says are the worsening of ASTI members' terms and conditions.
Turnout on the ballot on pay for newly-qualified teachers was 77%, and 80% of members who voted backed industrial action.
In a separate ballot on worsening of terms and conditions following the union's rejection of the Lansdowne Road Agreement, members voted 78% to 22% in favour of industrial action up to and including withdrawal from supervision and substitution. The turnout was 73%.
In both instances the ASTI recommended that members vote in favour of industrial action.
The 23-member ASTI Standing Committee will discuss the implications of the ballot results tomorrow.
This afternoon, ASTI President Ed Byrne said he expected school closures in early November.
"Today's ballot results demonstrate the depth of feeling amongst second-level teachers who have endured years of pay cuts and deteriorating terms and conditions. Teachers do not embark on industrial action lightly and strike action is always a very last resort," Mr Byrne said.
We need your consent to load this rte-player contentWe use rte-player to manage extra content that can set cookies on your device and collect data about your activity. Please review their details and accept them to load the content.Manage Preferences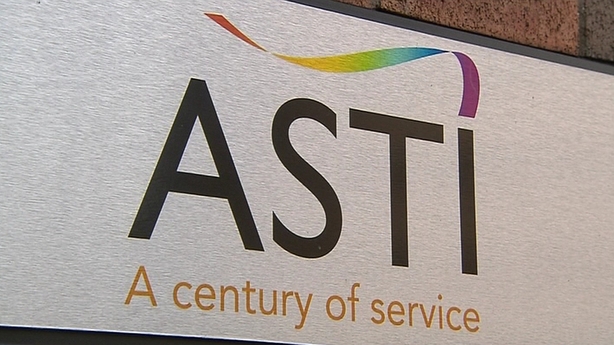 Mr Byrne has said the industrial action includes strike action in support of colleagues who are paid less.
He told RTÉ's Drivetime that the ASTI Standing Committee will firstly issue a directive to members to withdraw from supervision and substitution at a date to be decided and secondly give notice of strike action.
Mr Byrne said: "We've put the Government on notice that it's been an issue for quite a long time. It's up to them to do something about that."
He said a withdrawal from supervision and substitution could mean health and safety issues for schools, adding that boards of management will have to decide whether they will put contingency plans in place to keep schools open.
He said the ASTI could not sign up to the Lansdowne Road Agreement:
"The deal done with the TUI and the INTO around pay, yes, it's a step in the right direction, but no, it is not pay equalisation.
"It is not equal pay for equal work. We would still be teaching alongside other teachers who were being paid significantly less than those of us who began before 2011."
He said he is disappointed for pupils and parents, but "some of the teachers we are fighting for, for instance, were pupils six short years ago".
Meanwhile, the General Secretary of the ASTI has said that the executive board will meet tomorrow to decide on the next steps, but that schools maybe closed before Christmas, describing the potential development as "unfortunate".
Of the Lansdowne Road Agreement, Mr Christie said: "We firmly believe that the pay inequality that arose was grossly unjust and the Lansdowne Road Agreement isn't a mechanism that can deliver the (pay)restoration that needs to be delivered soon enough.
"We argue strongly that now is the moment that this issue (pay restoration) needs to be dealt with, in full."
He said the Government needs to sit down and "trash out" a deal that sees the full restoration of payments to ASTI members.
He said a timetable needs to be put in place that addresses the situation, saying it is causing descent and division with the teaching profession, adding that it's entirely unnecessary.
Industrial dispute 'not necessary' - Bruton
Minister for Education Richard Bruton has described the results of the ASTI ballot as an industrial dispute that is simply not necessary.
Mr Bruton called on the ASTI to enter into discussion with his department to try to resolve the issue.
He said any solution has to be resolved through dialogue and he said it is a worrying day for parents of children affected.
In a statement, the minister has "expressed his willingness to extend the benefits of the recent agreement reached with TUI and INTO on new entrant pay to ASTI members in the context of the union's cooperation with the Lansdowne Road Agreement. This agreement is worth €135,000 to a teacher over their career.
"Furthermore, the Minister has also repeatedly offered that if ASTI suspend their directive on withdrawal from the Croke Park Hours while talks are taking place, the Department can in return suspend the implementation of measures associated with the union's repudiation of the Lansdowne Road Agreement."
The ASTI staged a protest outside the Dáil to highlight that recently qualified teachers are on inferior pay scales, up to 20% below those of teachers who entered the profession before 2010.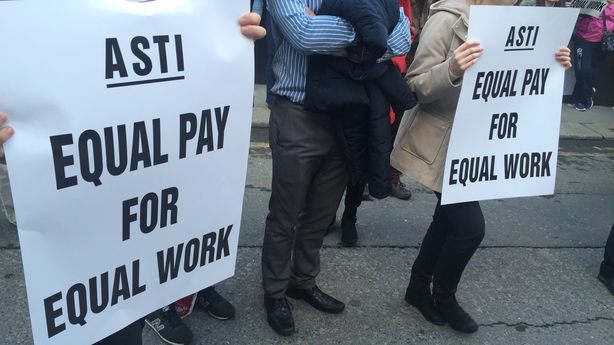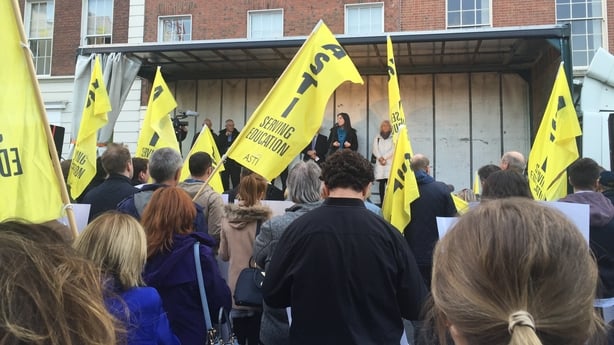 At its annual conference earlier this year, ASTI delegates agreed to ballot for industrial action if pay levels for new entrant teachers had not been restored by 31 August.
Substitution and supervision payments were suspended for all teachers for a number of years under the now expired Haddington Road Agreement.
The ASTI believes its members are now entitled, along with members of other teacher unions, to a restoration of these payments.
However, the Government has said the union must be part of the Lansdowne Road Agreement in order to benefit from restoration.