The education budget will increase by 5% next year, with much of the increase going towards funding growing numbers of students in the system.
An additional 170 assistant and deputy principal posts will be allowed for some of the country's largest schools.
However, for schools with ASTI members this is contingent on the union signing up to a new middle management agreement with the department.
550 additional teachers are being provided to underpin Junior Cycle reform.
This will allow teachers involved in the new programme to engage in additional training.
100 extra guidance counsellors are being provided for second-level schools.
The rest of the 2,500 additional posts announced for schools today comprise additional teachers and special needs assistants needed to cater for rising demographics.
They include class teachers, as well as specialist teachers for children with disabilities, and special needs assistants.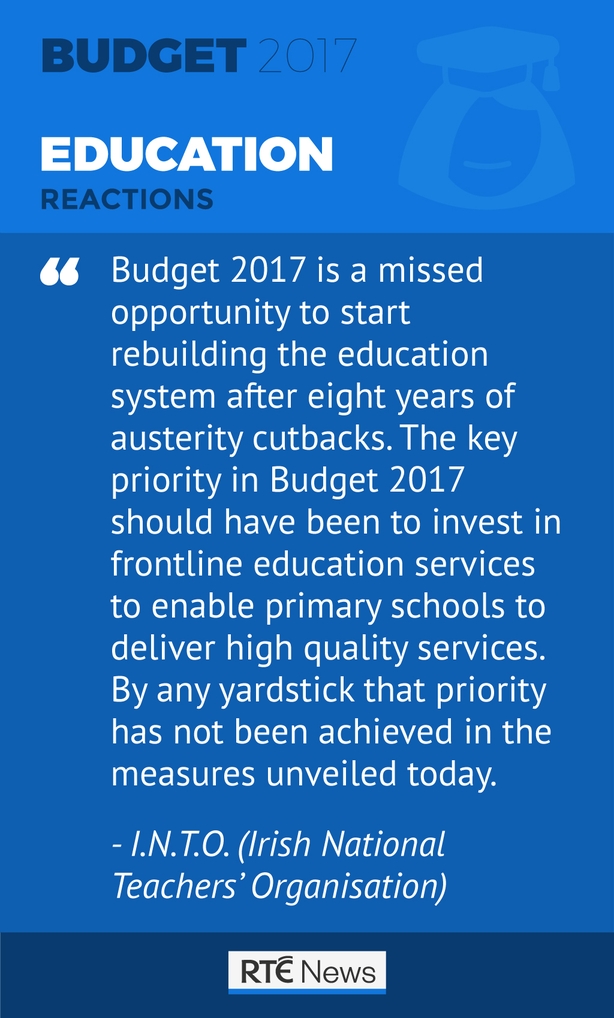 The Irish National Teachers' Organisation has expressed disappointment that day-to-day funding for schools has not been increased.
The union said schools will have to continue relying on voluntary fundraising and parental contributions.
It has also criticised the fact that a 15% cut to funding for children with special needs remains in place, classes remain overcrowded, and pay inequality for more recently-qualified teachers continues.
There is likely to be disappointment at the €36.5 million in additional funding announced for third-level.
The Government has also announced a new consultative process with the aim of developing a multi-annual model for higher and further education and training.
It says this will include the consideration of an "employer-exchequer investment mechanism".
Capital funding in education has been increased by €95m. This aims to create an additional 20,000 school places.
The Teachers' Union of Ireland (TUI) said that the increase in teacher numbers at second level should come as little surprise.
"Much of the increase at second level will be required to cater for the ongoing rise in student numbers and facilitating the 'professional time' required for teachers under the new Junior Cycle programme," said TUI president Joanne Irwin.
"Budget 2017 does nothing to tackle the pay inequality that exists between those who began in the profession before and after 2011," added Ms Irwin.
"It is completely unacceptable that colleagues continue to be paid different rates for doing the same work," said Ms Irwin.
Minister for Education Richard Bruton has said today's Budget is "a clear declaration of intent towards starting a roadway of a serious assessment of how we can develop joint approaches" for the funding of higher education.
He was responding to questions as to whether additional funding for the sector of €36.5m was enough.
Mr Bruton said the country needed to find models for investment for the sector that were sustainable into the medium term.
Budget does little to reverse austerity measures, say unions
Budget 2017 does little to reverse the austerity measures imposed on schools in recent years, according to ASTI General Secretary Kieran Christie.
Mr Christie said the failure to restore the pupil teacher ratio (which was increased from 18:1 to 19:1 in 2009) is extremely disappointing.
"Schools lost between one and three teachers as a result of this cut, and many schools had to reduce subject choice for students," he said.
"The additional teachers announced in Budget 2017 is noted, albeit many for demographic reasons, however the reality is that much more needs to be done," added Mr Christie.
Universities have welcomed the announcement of €260m in funding for the higher education sector over the next three years.
The Irish Universities Association has said it also welcomed the fact that work is to commence on a new multi-annual funding model for the sector.
In a statement, IUA Chair Professor Don Barry said: "For the first time in almost a decade, we are seeing a turn in the tide of higher education funding. After years of cutbacks, this is a significant step forward."
This year's increase of €36.5m is part of a three-year plan to invest an additional €160m in the sector.
Professor Barry said he welcomed the fact that the sustainability of higher education was now "firmly on the agenda".
He said the IUA looked forward to working with Minister Bruton and the Oireachtas Joint Committee on Education and Skills in creating the conditions that would deliver a quality education system.