The Government has confirmed that the State pension will rise by €5 from next March, bringing the weekly rate to €227.
Minister for Public Expenditure and Reform Paschal Donohoe also announced this afternoon that there would be a €5 rise in all weekly social welfare payments.
It means many of those receiving disability, carers' and jobseekers' allowances will see their payments rise for the first time in seven years.
The Christmas bonus, which was restored to 75% last year, will increase to 85%.
The measures are part of an overall increase in spending of €301m.
However, not all recipients of basic social welfare payments will get a €5 increase, according to figures released in conjunction with the Budget.
For example, contributory State pensioners over the age of 80 will receive an additional €10 when the measures are implemented in March, while a non-contributory State pensioner in the same age group will receive the standard €5 boost.
According to the Expenditure Report 2017, there will be no increase for children dependent on recipients of basic weekly welfare payments.
'Qualified Children', as they are called by the Department of Social Protection, will continue to attract a payment of €29.80, which is made to their parent or guardian.
Recipients of the living alone allowance will also receive no increase in their €9 weekly payment.
However, the personal rate for the non-contributory guardian's payment is set to rise by €15, from €161 to €176.
While adults over the age of 26 on jobseekers' allowance will receive the full benefit of the €5 increase, younger recipients whose rates were cut with the onset of the recession, will get smaller increases.
Eighteen to 24-year-olds will get an additional €2.70, bringing their personal weekly rate to €102.70.
Twenty-five-year-olds will benefit to the tune of €3.80 in their personal rate, bringing their payments to €127.80.
A similar tapering of increases applies to people under 26 in receipt of the supplementary welfare allowance.
Minister for Social Protection Leo Varadkar dismissed criticisms of his decision not to increase the welfare payments of people under the age of 26 by €5.
He told a Budget news briefing that an increase of that amount to that grouping "would send out the wrong signal".
There were "lots of jobs, educational opportunities and work training schemes available - much more than three or four years ago", he said.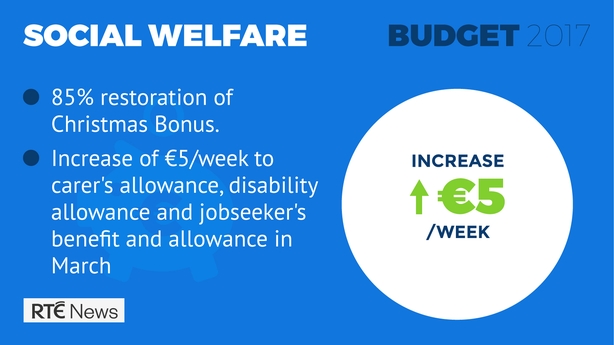 "The collapse of the economy meant that we could not increase such payments," Minister Donohoe said in the Dáil.
"The return of growth and the economic recovery of the last couple of years are the reason why we can now afford to begin to change this.
"Carers, the unemployed, and those living with disabilities may not always have the loudest voices, but their needs are no less real.
"Many of those in receipt of these payments are our most vulnerable citizens. We cannot have a just society if we leave them behind."
"The increases which the Government have 'given back' show how out of touch they are with people if they think that an extra €5 a week on benefits or from a USC cut will go far," said Paul Murphy of the Anti-Austerity Alliance.
"They should have included a warning not to spend it all in one shop," added Mr Murphy.
CEO of Down Syndrome Ireland Pat Clarke described the €5 increase to the disability and carer's allowances as "pitiful and wholly lacking in any attempt to redress seven years of austerity measures inflicted on people with disabilities, including those with Down syndrome."
He continued: "We have waited seven years without any increase to these allowances. This €5 is pitiful and does little to reflect the cost of living for those with disabilities.
 "This is a time of economic growth and prosperity in Ireland, but yet again it is those who are most vulnerable, those with disabilities, who have been left behind. It seems they may never feel the benefit of the recovery."
Disappointment over delay to increase
Groups that work with older people have welcomed the €5 increase in the State pension as a step towards ending 'income inequality'.
However, Age Action said it was disappointed that the increase had been delayed until March.
Justin Moran said: "Delaying it to the start of March is going to disappoint many older people who will lose out during some of the coldest months of the year.
"A two-month delay means a loss of €40 to someone struggling to keep their home warm or to pay for medicine."
Meanwhile, Active Retirement Ireland called for the full restoration of the Household Benefits Package and more funding for home care packages.
"We welcome these moves to alleviate the pressure many older people are under to make ends meet. It's a step in the right direction," said ARI Head of Communications Peter Kavanagh.
"Income inequality still disproportionately affects older people who don't have any future earning capacity, so we need to ensure that their income and benefits are secure in the long term."
Elsewhere, Sinn Féin spokesperson for Social Protection John Brady has criticised the €2.70 increase in Jobseekers' Allowance for those aged between 18 and 24 as "the shameful discrimination of our young unemployed".
He said: "This increase will have no impact whatsoever on our young unemployed. In fact, it will do nothing more than incentivise them to emigrate.
"Once again, the Government's Budget provides our young people with absolutely nothing."
The Father Peter McVerry Trust also said it was disappointed that those between 18 and 24 were not granted the full €5 increase.
It said: "This will send a message to young people that Government does not value them like they value those who are older.
"In fact the decision by government not to allocate the €5 to those aged 18-25 means that the gap in welfare payments between young people and those aged over 26 is bigger now than it was before Budget 2017."
"The increase in Carer's Allowance of €5 per week...while welcome, does not go far enough in recognising the unique status of family carers within the Social Protection budget, particularly in light of the fact that they are the only social welfare recipients that have to work in excess of 35 hours per week for their means-tested payment," said Family Carers Ireland spokesperson Catherine Cox.
Mr Varadkar this evening said a new deal for the self-employed would extend new benefits to 380,000 people who pay Class S PRSI.
They will now qualify for treatment benefit such as free eye and dental tests as well as access to the State's safety net income supports if they have a serious illness or injury.
He emphasised that they would not be means-tested to qualify.
The minister said that all PRSI payees will see the reintroduction of dental polishing and scaling benefits, and payments towards spectacles.
He also announced special measures for working lone parents to allow them keep more of the income they earn.
Mr Varadkar described the social protection element of the Budget as the fairest one since the onset of the recent recession.
Deputy Kevin 'Boxer' Moran of the Independent Alliance said their footprints are all over this Budget.
At a press conference today they pointed to the 85% restoration in the Christmas bonus, and to changes to the cap for prescription charges for over 70s with a medical charge, the animal welfare sheep grant and measures for people with disabilities.
The Workers' Party described today's Budget as being as bad any presented by Minister for Finance Michael Noonan at the height of the economic crisis.
"It beggars belief that Michael Noonan can keep a straight face while on the one hand giving a paltry €5 to pensioners a week while on the other handing huge sums of money to property owners and developers in a raft of measures that will only serve to inflate the cost of housing," said Workers' Party councillor Ted Tynan.
"This was a Fine Gael Budget through and through and the only input of Fianna Fáil and the Independents is to ensure it gets passed through the Dáil.
"This is an austerity budget for the working class and a giveaway budget for the wealthy - nothing could be clearer."