Polls suggest that Hillary Clinton won last night's bitter US presidential debate against Republican rival Donald Trump as he struggles to shake off a wave of criticism over lewd remarks about women.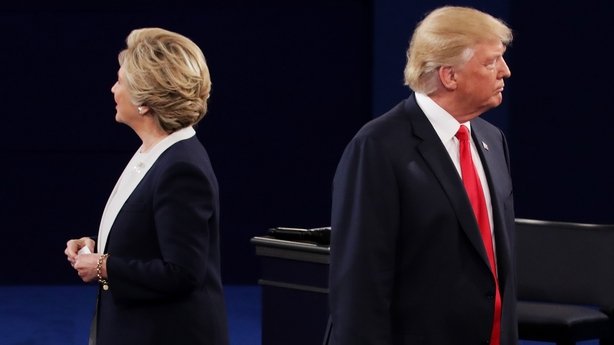 However, the snap surveys of debate watchers showed a less decisive victory for the Democratic candidate than when the two presidential hopefuls first went head-to-head last month.
A CNN/ORC poll of viewers gave Mrs Clinton a clear win in the St Louis debate, with 57% saying she won as opposed to 34% for Mr Trump.
But a YouGov survey showed a narrower victory, with 47% of registered voters who watched the debate saying she prevailed and 42% saying Mr Trump did. The rest said it was a tie.
Viewers had been more in agreement at the last debate that the former first lady and ex-secretary of state had emerged victorious, when 62% of those surveyed for CNN/ORC said she won.
Expectations were low for Mr Trump, who is under fire for recorded remarks in which he speaks of groping women and using his celebrity status to make them have sex with them.
The debate started with no handshake between the two candidates and the first 20 minutes of the 90-minute clash was dominated by personal attacks.
The issue of the recent recording that came to light where Mr Trump was heard making lewd remarks about women in 2005 was tackled at the outset with Mr Trump saying "this was locker room talk" and "I'm not proud of it".
He said he was "very embarrassed" by the tape but he has great respect for women and he has not kissed or groped women without their permission.
Mrs Clinton said with prior Republican nominees for president she disagreed with them but never questioned their fitness to serve, but with Mr Trump it is different.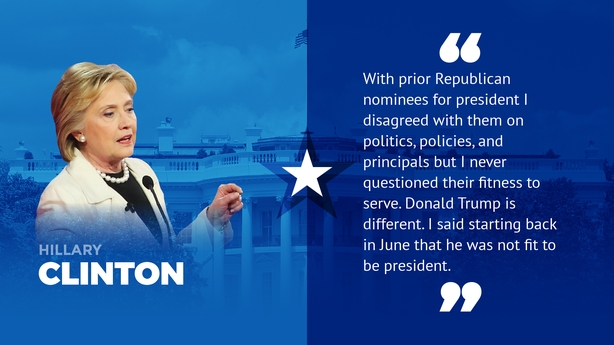 She said Mr Trump's comments showed what he thinks about women and does to women and it is clear the recording represents exactly who Mr Trump is.
Mr Trump responded by raising Bill Clinton's impeachment during his time as president when a Republican-led House of Representative voted to approve articles of impeachment accusing him of perjury for misleading a grand jury about his relationship with former White House intern Monica Lewinsky.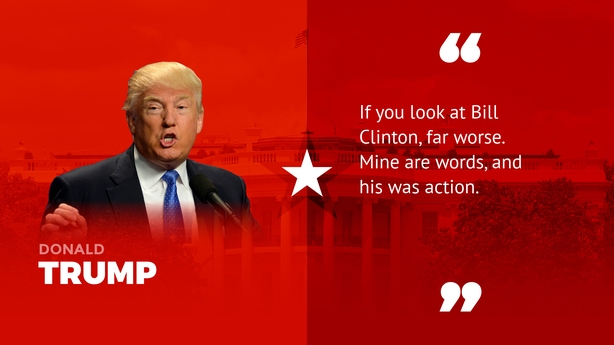 Mr Trump said Mr Clinton was abusive to women and Hillary Clinton attacked those same women and attacked them viciously.
In response, Mrs Clinton said "so much of what he's said is not right" and repeated comments made by Michelle Obama - "When they go low, you go high".
Mr Trump also said Mrs Clinton should "be ashamed of herself" over how she used a personal email server while secretary of state.
Mr Trump said Mrs Clinton was "lying again" about the emails and he threatened to prosecute her if he wins the election on 8 November.
"If I win, I'm going to instruct the attorney general to get a special prosecutor to look into your situation because there's never been so many lies, so much deception," Mr Trump told Mrs Clinton.
His Democratic rival responded: "It's just awfully good that someone with the temperament of Donald Trump is not in charge of the law of our country," prompting the Republican to fire back: "Because you'd be in jail."
Mr Trump brought up Mrs Clinton's rival for the Democratic nomination, Bernie Sanders saying he never had a chance in the process and he was surprised to see him "sign on with the devil" and support Mrs Clinton.
Syria, Russia, Obamacare, abortion and other issues became footnotes in the debate as moral qualities and judgement gave way to character assassination by the candidates.
Clinton accusers back Trump ahead of debate
The tone for the night was set when earlier Mr Trump went on the offensive holding a news conference with a panel of women who accused Bill Clinton of sexual harassment and misconduct.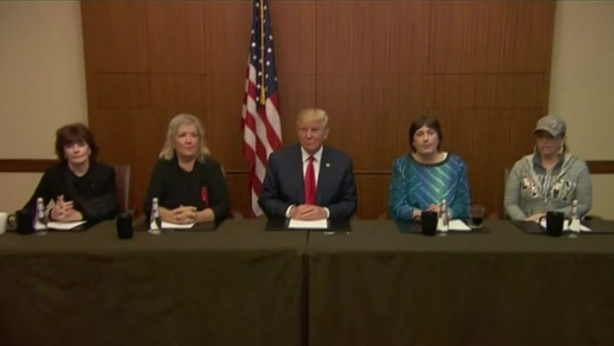 "These four very courageous women have asked to be here," Mr Trump said at the news conference.
Seated beside four women - Juanita Broaddrick, Paula Jones, Kathleen Willey and Kathy Shelton - Mr Trump addressed viewers ahead of the debate, making an issue of Mr Clinton's own sexual history as the GOP nominee faces a mass defection from within his own party after being caught bragging about sexual assault.
"These four very courageous women have asked to be here, and it was our honour to help them," Mr Trump said of the women.
Juanita Broaddrick, who in 1999 accused Mr Clinton of raping her decades earlier, accused Mr Trump's attackers of hypocrisy.
"I tweeted recently and Mr Trump retweeted it that actions speak louder than words. Mr Trump may have said some bad words but Bill Clinton raped me and Hillary Clinton threatened me. I don't think there's any comparison," she said.
Paula Jones McFadden, who in 1994 accused then-president Bill Clinton of sexual harassment, said she was there to support Mr Trump because he is going to make America great again.
"And I think everybody else should vote for him. And I think they should all look at the fact that he's a good person, he's not what other people have been saying he's being, like Hillary. So think about that."
Mr Clinton was never charged in any of the cases, and he settled a sexual harassment suit with one of the women, Paula Jones, for $850,000 with no apology or admission of guilt.
While Mr Clinton was president in 1998, the Republican-led House of Representative voted to approve articles of impeachment accusing him of perjury for misleading a grand jury about the nature of his relationship with former White House intern Monica Lewinsky.
Mr Trump, the embattled Republican nominee, sought to deflect attention from a scandal over lewd remarks he made about women in 2005 that came to light on Friday.
Mr Trump has vowed to remain in the race even as his campaign was thrown into crisis following news of the recording of him making lewd comments ten years ago.
His running mate Mike Pence criticised him and more than a dozen prominent Republicans withdrew support and urged him to drop out.
The 2005 video of Mr Trump talking on an open microphone showed the then-reality TV star speaking openly about groping women and trying to seduce a married woman.
The video was taped only months after Mr Trump married his third wife, Melania.
The backlash against the video was swift and widespread.
Mr Trump quickly moved to conduct damage control in a video statement today in which he declared himself a changed man and attempted to shift the focus to his opponent, Mrs Clinton.
He threatened, again, to focus his attacks on the infidelities of her husband, former president Bill Clinton, saying he would talk more about the pasts of both Clintons with only a month until the 8 November election.
Mrs Clinton's campaign says it is "not surprised" to see Mr Trump's "destructive race to the bottom," and called the meeting with accusers of Bill Clinton a "stunt".
However, the presidential debate ended on a slightly positive note when the candidates were asked by an audience member what they respected about each other.
Mrs Clinton said: "I respect his children. His children are incredibly able and I think that says a lot about Donald."
Mr Trump said: "I will say this about Hillary - she doesn't quit, she doesn't give up. I tell it like it is. She's a fighter."
The candidates shook hands at the end of the debate which saw Mrs Clinton once again show her strength on policy, and after a week where Mr Trump was on the back foot there was no killer blow delivered by Mrs Clinton or by Mr Trump.
Watch video highlights of the debate
Caitríona Perry: US presidential debate will go down in history books
US media reaction to second debate
Muslims would be subject to 'extreme vetting'