Republican Donald Trump struck a defiant tone in the face of calls for him to abandon the US presidential race, attacking prominent Republicans and saying he has "tremendous support" despite a storm over vulgar comments he made about women.
As Mr Trump prepares to debate Democratic presidential candidate Hillary Clinton tonight, Mr Trump took to social media to try to silence any speculation that he could leave the race.
"Tremendous support (except for some Republican leadership). Thank you," Mr Trump wrote on Twitter.
"So many self-righteous hypocrites. Watch their poll numbers - and elections - go down!" Mr Trump tweeted, apparently referring to those Republicans who have withdrawn support for his candidacy over a 2005 video that emerged on Friday.
A string of Republican senators, in reaction to the revelations in the video, withdrew their support of Mr Trump, with some advising him to drop out of the race.
Former New York Mayor Rudy Giuliani, a Trump adviser, warned that at the debate, Mr Trump would not rule out going on the offensive by bringing up her husband Bill Clinton's past infidelities.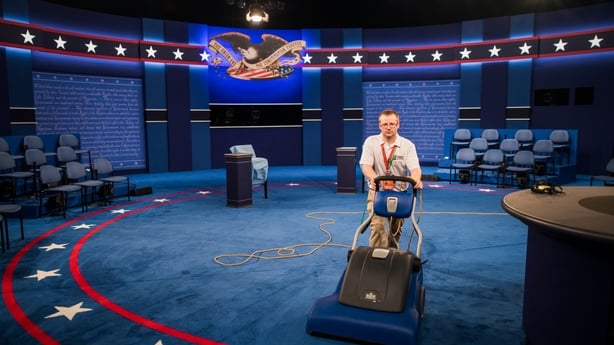 The 2005 video showed Trump, then a reality TV star speaking on an open microphone about groping women and trying to seduce a married woman. The video was taped only months after Mr Trump married his third wife Melania.
Interviewed on NBC's Meet the Press, Mr Giuliani said both presidential contenders were flawed but that Mr Trump feels he owes it to his supporters to stay in the race.
"He obviously feels very bad about what he said, he's apologised for it," Mr Giuliani said. "What he'd like to do is move on to the issues that are facing the American people."
Republicans have attacked Hillary Clinton, 68, over what they say is her role in trying to discredit women who accused Bill Clinton of sexual misconduct decades ago.
We need your consent to load this rte-player contentWe use rte-player to manage extra content that can set cookies on your device and collect data about your activity. Please review their details and accept them to load the content.Manage Preferences
Mrs Clinton's campaign chairman John Podesta, interviewed on Fox News Sunday, called the Mr Trump remarks captured on video "disgusting" adding, "This is who this guy is."
Mr Trump, 70, is facing the biggest crisis of his 16-month-old campaign. The pressure on him will be intense at the debate at Washington University in St. Louis.
Sources told CNN the first questions would be about the uproar.
It is the second of three scheduled presidential debates as the long-running US election contest enters its final weeks.
Mr Trump already has an uphill battle to win the White House.
Before the video surfaced, a Reuters/Ipsos poll had Mrs Clinton leading by five points on Friday. Now, the question is whether Mr Trump's quest for the presidency has been dealt a lethal blow.