Northern Ireland's First Minister Arlene Foster has confirmed she will not be attending the all-island conference on Brexit in Dublin next month.
However, she said she is committed to working with the Irish Government, through the North South Ministerial Council, and in direct talks with the Taoiseach on issues of common interest in the Brexit negotiations.
In an interview with RTÉ News, the DUP leader said she does not believe the peace process will be destabilised by the UK's decision to leave the EU.
She played down the possibility of Scotland leaving the UK, saying it would be ludicrous to do so from an economic point of view.
Ms Foster said her goal is to have a border that works for citizens on both sides of the border and that she is looking forward to meeting Enda Kenny soon to have a discussion about the best way forward.
We need your consent to load this rte-player contentWe use rte-player to manage extra content that can set cookies on your device and collect data about your activity. Please review their details and accept them to load the content.Manage Preferences
She said that British Prime Minister Theresa May has indicated she intends to trigger the formal process for the UK leaving the EU by the end of March and that may well mean January or March.
Ms Foster said she is looking forward to soon having discussions with Mr Kenny and said they need to come to a common position on issues which concern their constituents.
The DUP will not attend next month's all-island civic dialogue on Brexit which will be chaired by the Taoiseach in Dublin.
Ms Foster said when the all-island conversation first came up at the North South Ministerial Council in July, it was handled badly.
Her sense, she said, is the Taoiseach is under a lot of pressure from other parties in the south and the gathering he has called with involve grandstanding, a lot of weeping, wailing and gnashing of teeth, but it will not lead to anything constructive.
Invitations to the discussions on 2 November will be extended to civic society groups, trade unions, business people, non-governmental organisations and the main political parties on the island.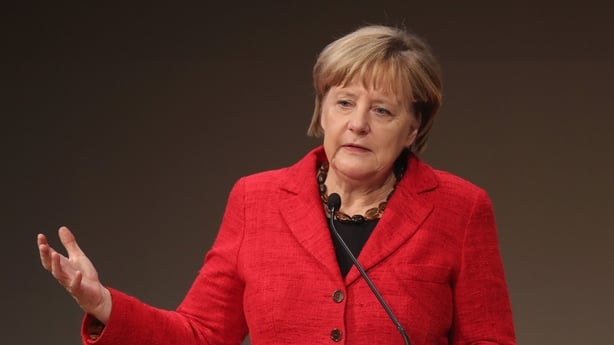 Meanwhile, German Chancellor Angela Merkel has said Britain cannot be allowed access to the EU's single market without accepting free movement of people, warning she would not allow a free-for-all.
"If we don't say full access to the internal market is linked to full freedom of movement, then a movement will spread in Europe where everyone just does whatever they want," the chancellor said.
Ms Merkel urged German firms to back Berlin's tough line on Brexit even in the face of potential economic harm, or risk undermining the European Union.
"We have to make our interests align so that European industry federations don't put pressure on us" during talks with London, the chancellor told business leaders from the BDI industry federation.
Some British politicians are confident that industry groups on the continent, fearful of losing their access to the UK, will push for a deal retaining Britain's access to the EU single market while limiting migration across the Channel.
The chancellor acknowledged the trade offs to be made would be "judged differently from one industrial sector to the next", but insisted that protecting the EU's four freedoms - of goods, capital, people, and services - was good for industry.
Ms Merkel's comments come just days after British Prime Minister Theresa May said she would trigger by March 2017 the two-year talks to quit the European Union.
Ms May's Conservative party announced a slew of policies aimed at reducing migration to the island nation at its conference this week.
Britons voted on 23 June to quit the EU, after a campaign in which "Leave" voices said the only way to limit immigration was to abandon membership of the bloc.