More than 6,055 migrants were rescued and 22 found dead as they tried to reach Europe on about 40 boats, one of the highest numbers in a single day, Italian and Libyan officials said.
A Italian coastguard statement said at least nine people had died and a pregnant woman and a child had been taken by helicopter to a hospital on the Italian island of Lampedusa, halfway between Sicily and the Libyan coast.
Libyan officials said 11 migrant bodies had washed up on a beach east of the capital, Tripoli, and another two migrants had died when a boat sank off the western city of Sabratha.
One coast guard ship rescued about 725 migrants on a single rubber boat, one of about 20 rescue operations during the day.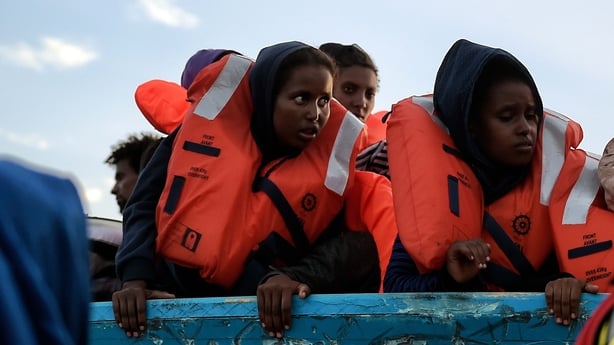 About ten ships from the coast guard, the navy and humanitarian organisations were involved in the rescues, most of which took place about 30 miles off the coast of Libya.
LÉ Samuel Beckett assisted the Italian coast guard, rescuing 128 migrants during two search and rescue operations.
In the first operation, 19 people were rescued and later 109 people were rescued from a rubber craft and brought on board the ship.
According to the Irish Defence Forces, over 12,500 migrants have been rescued to date as a result of Irish participation in humanitarian missions in the Mediterranean.
Doctors Without Borders said its search and rescue teams in the Mediterraneanhad rescued nearly 2,000 people from 11 separate boats in less than seven hours.
The charity said that one young pregnant woman died after being rescued.
Today was the third anniversary of the sinking of a migrant boat off Lampedusa in which 386 people died.
According to the International Organisation for Migration, around 132,000 migrants have arrived in Italy since the start of the year and 3,054 have died.