NAMA's chief executive and chairman have both emphatically rejected the finding of the Comptroller and Auditor General that the sale of NAMA's Northern Irish loans resulted in a probable loss of £190m.
NAMA CEO Brendan McDonagh and Chairman Frank Daly were speaking at the Public Accounts Committee, which met to discuss the Project Eagle sale.
Project Eagle is the name given to the Northern Ireland property-loans portfolio that NAMA controversially sold in April 2014 to Cerberus, a US company, for about £1.3bn.
Mr McDonagh said he emphatically rejected the Comptroller's remarks that the decision to sell the loans at a minimum price of £1.3bn involved a significant probable loss of value to the State.
Mr McDonagh said the Comptroller's view that a discount rate of 5.5% was the appropriate one to derive the market value and was not supported by market or expert support.
He also said it ignored strong market evidence from loans sales evidence that used a discount rate of 10-15%.
Mr Daly said the agency stood over the decision to continue the Project Eagle sale when they found out about Frank Cushnahan's proposed fixers fee with bidder Pimco.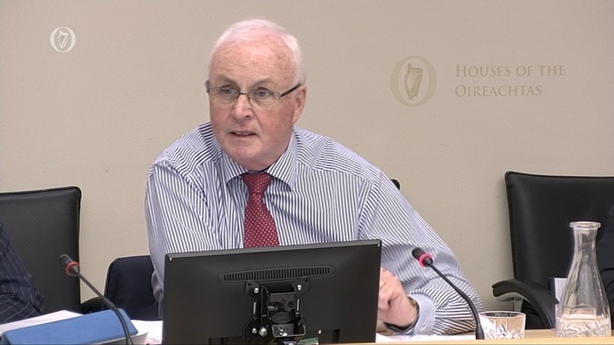 He said the interest of Irish taxpayers took precedence over Mr Cushnahan's "alleged maneuverings" in Belfast.
He said it was not an easy decision to make as Mr Cushnahan had been strongly endorsed by the Northern Ireland government and appeared to have been a respected figure in the Northern Ireland business community.
Mr Daly said they were satisfied they managed Mr Cushnahan's conflicts of interest appropriately. He said Mr Cushnahan was a not a NAMA insider and he was peripheral as far as it was concerned.
Sinn Féin's Mary Lou McDonald asked Mr Daly when he was made aware of a success fees arrangement with Mr Cushnahan.
Mr Daly said NAMA had first been told of the fee arrangement on 10 March 2014. He said they had two or three calls from Pimco.
He said NAMA did not know when the fee arrangement was made and he said Mr Cushnahan has denied any arrangement.
Mr Daly also said Mr Cushnahan had been gone from NAMA's Northern Ireland advisory committee.
Under questioning from PAC chairman Sean Fleming about why NAMA did not carry out valuations, Mr Daly said it adopted a bespoke process for Project Eagle, given the sensitivity involved in Northern Ireland.
"We accepted certain features of the normal sales process would not apply including the commissioning of property valuations and that was related to sensitivities in the Northern Ireland market," he said.
Ms McDonald said she was struck by the "trenchant nature" of NAMA's criticism, adding that it fell short only slightly of accusing the C&AG of incompetence and malice.
She told Mr Daly that he was quick to criticise the report of the C&AG, given that he said he did not take the decision lightly and asked if he a difficulty with oversight.
Mr Daly responded that he had been dealing with the Office of the Comptroller and Auditor General for decades without issue.
He told Ms McDonald that his criticism was "a professional difference" and he was not saying there was incompetence or malice.
Ms McDonald pressed Mr Daly on his assertion that NAMA had got Pimco to withdraw, saying that documents showed Pimco's willingness to leave after the issue of a potential success fee was revealed.
However, Mr Daly said Pimco withdrew because "they knew we would not let them continue".
Earlier, Comptroller and Auditor General Seamus McCarthy had defended his report on the sale by the National Asset Management Agency of its Northern Irish loans.
We need your consent to load this rte-player contentWe use rte-player to manage extra content that can set cookies on your device and collect data about your activity. Please review their details and accept them to load the content.Manage Preferences
The C&AG recently found that the sale involved a significant probable loss to the State of up to £190 million.
The Comptroller and Auditor General is standing by his report and today raised lots of issues about the deal.
He said the National Asset Management Agency had not conducted any additional valuations before the sale.
He again took issue with the discount applied and said a lower one had previously been presented to the NAMA board.
Mr McCarthy said that the difference between the role of the sale advisers in this deal compared to others by NAMA "was enormous".
But he added that the probable loss was not set in stone, saying he did not have a crystal ball and does not know if a better price could have been achieved.
Mr McCarthy also took issue with NAMA for not writing to a former member of NAMA's Northern Ireland Advisory Committee, Frank Cushnahan, about an alleged fee-sharing arrangement with a bidder.
But he said his report draws no conclusions about individuals.
Mr McCarthy defended his investigation team, saying they all had significant audit and evaluation experience.
His report, he said, had been reviewed by members of the National Audit Office in London.
NAMA previously described the C&AG's key finding as "fundamentally unsound and unstable and it states it cannot be left unchallenged".
NAMA also believes the Comptroller and Auditor General should have engaged specialist external advice.
PAC chairman Seán Fleming has said the hearings will try to determine the "actual loss" to the taxpayer.
Speaking on RTÉ's Morning Ireland, he said the PAC aims to produce a report by Christmas.
Mr Fleming also said the PAC will look at the sales process from beginning to end and will ask the C&AG why his audit of NAMA was only presented this year despite being carried out in 2014 and 2015.
No intention of suspending NAMA sales - Noonan
Elsewhere, Minister for Finance Michael Noonan has said he has no intention of suspending NAMA's sales activities.
During Minister's Questions in the Dáil, Sinn Féin's Pearse Doherty asked that all NAMA sales be suspended in light of what the C&AG report said.
In response, Mr Noonan said: "In no way has the integrity of NAMA or the NAMA board or the integrity of its decisions been brought into question.
"So I have no intention of directing NAMA to halt its sales activities.
"To do so would irreparably damage NAMA's position, its positive contribution to our recovery and damage our reputation as a credible, open and transparent market. By extension any such interference would be detrimental to the interests of Irish taxpayers."
Asked by Fianna Fáil's Michael McGrath about the value of NAMA's remaining loan assets, Minister Noonan said that the par value of NAMA's outstanding loans was €39.6bn as of the end of March.
He said the NAMA disposal strategy is designed to take full advantage of strong purchaser interest in loans.
The agency's strategy has been to get the strongest possible return for the State, he added.