The Republican party's US presidential candidate Donald Trump has launched a fresh attack against Hillary Clinton because of her relationship with Irish businessman Denis O'Brien.
In a lengthy email to the media, headlined "Follow the Money", Mr Trump's campaign makes several disparaging comments about Mr O'Brien.
We need your consent to load this rte-player contentWe use rte-player to manage extra content that can set cookies on your device and collect data about your activity. Please review their details and accept them to load the content.Manage Preferences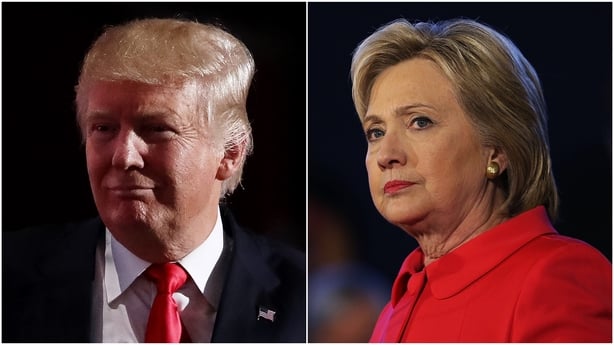 Denis O'Brien is aware of the remarks but his representative told RTÉ News that the businessman would not be making any comment in relation to them.
The press release, sent from the Trump campaign team, details links between Hillary Clinton and her "friend" the Irish businessman.
It outlines in considerable detail the relationship between Mrs Clinton, her husband Bill Clinton and Mr O'Brien, including his donations to the Clinton Foundation and work he has carried out in Haiti.
The statement draws attention to the period while Mrs Clinton was US secretary of state, when Mr O'Brien was awarded funding to develop mobile phone services in Haiti from a fund administered by the US Agency for International Development (USAID), which is overseen by the State Department.
The funds were, however, provided by the Bill and Melinda Gates Foundation.
It also details legal actions between Mr O'Brien and Irish media organisations.
The Trump campaign also provided links to newspaper articles about trips that the former US President Bill Clinton has made to Ireland, supported by Mr O'Brien, and mentions a dinner hosted by the businessman for Mrs Clinton on another occasion.
With "Follow the Money" campaign @realDonaldTrump attacks @HillaryClinton for her links to Denis O'Brien. More on @rtenews @morningireland pic.twitter.com/pFfwWGPclI

— Caitriona Perry (@CaitrionaPerry) September 29, 2016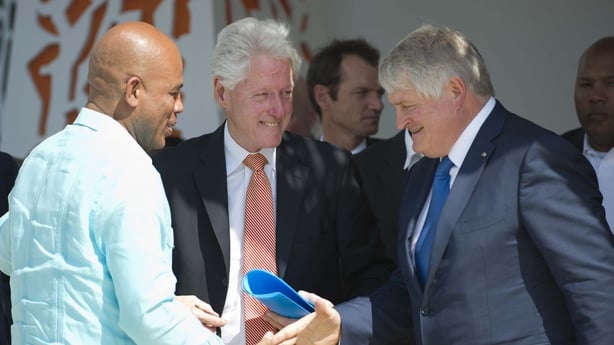 It goes into detail of many of Mr O'Brien's business operations in Ireland including references to the awarding of the second mobile phone licence to Esat Digifone in 1995.
It also singles out Mr O'Brien's interactions with former communications minister Michael Lowry, referencing findings from the final Moriarty Tribunal report published in 2011 which stated that it was "beyond doubt" that Mr Lowry had imparted substantive information to Denis O'Brien which was "of significant value and assistance to him in securing the licence".
These are findings which Mr O'Brien continues to challenge.
The statement also details legal actions between Mr O'Brien and Irish media organisations.
It also includes mention of the controversy relating to Mr O'Brien's purchase of Siteserv.
The statement does not contain any direct quotes from Donald Trump and contains several lengthy quotations from articles featured in Irish and international publications, and includes links to those articles.
The email was just one in a series issued by the Trump campaign late yesterday all headlined "Follow the Money", as part of Donald Trump's latest attack on his Democratic rival for the White House.
Following the first presidential debate on Monday, he has come under pressure to make sharper attacks on Mrs Clinton.
This campaign seeks to highlight her connections to wealthy business people, donors to the Clinton Foundation, and Wall Street banks during her time in office.
There is no proof of direct favours granted by Hillary Clinton to Clinton Foundation donors while she was secretary of state, although access to her was sought and sometimes granted to big contributors while she held office.
Mr Trump delivered a passionate speech on the theme in Wisconsin last night, saying "Everything you need to know about Hillary Clinton can be understood by this simple phrase - follow the money".
He then went on to repeat that phrase several times throughout his speech.
He did not mention Denis O'Brien by name during his address at the rally in Waukesha.
Mr O'Brien has a well-publicised relationship with the Clintons.
He is, both personally and through his business Digicel, a generous donor to the Clinton Foundation.
On its website, the Clinton Foundation lists its donors, by using wide-ranging donation brackets for how much they have donated. It includes Mr O'Brien and Digicel in the bracket of "cumulative lifetime donations" of between $10-25m as of June 2016.
The Irish Government is also mentioned as part of Donald Trump's "Follow the Money" campaign.
In another of the themed emails yesterday, the Trump campaign listed donations by foreign governments to the Clinton Foundation as one of "Ten Inconvenient Truths about the Clinton Foundation".
It lists 19 countries that have donated to the Clinton Foundation, and Ireland is fifth on the list with donations to the Foundation falling into the $5-10m bracket over the course of the lifetime of the Foundation, up to June 2016.
The foundation was set up in the wake of Bill Clinton's presidency in 2001. It does not detail when exactly any donations were made.