The situation in the Syrian city of Aleppo is worse than a slaughterhouse, United Nations Secretary-General Ban Ki-moon has said.
He said that those using "ever more destructive weapons" in Syria are committing war crimes.
UN Secretary-General, Ban Ki-moon: Situation in Syria worse than a slaughterhouse https://t.co/jA1QiW1kq5 pic.twitter.com/zIeMVgCYQr

— RTÉ News (@rtenews) September 28, 2016
Early this morning Russian or Syrian warplanes knocked a major hospital in the city out of service, hospital workers said.
Ground forces were also said to have intensified an assault on the city's besieged rebel sector, in a battle that has become a potentially decisive turning point in the civil war.
Shelling damaged at least another hospital and a bakery, killing six residents queuing up for bread under a siege that has trapped 250,000 people with food running out.
We need your consent to load this rte-player contentWe use rte-player to manage extra content that can set cookies on your device and collect data about your activity. Please review their details and accept them to load the content.Manage Preferences
The World Health Organisation said it had reports that both hospitals were now out of service.
The government of President Bashar al-Assad, backed by Russian air power, Iranian ground forces and Shia militia fighters from Iran, Iraq and Lebanon, have launched a massive assault to crush the rebels' last major urban stronghold.
Syria's largest city before the war, Aleppo has been divided for years between government and rebel zones, and would be the biggest strategic prize of the war for Assad and his allies.
Taking full control of the city would restore near full government rule over the most important cities of western Syria, where nearly all of the population lived before the start of a conflict.
The war has since made half of Syrians homeless, caused a refugee crisis and contributed to the rise of the so-called Islamic State group.
US threatens to end negotiations with Russia on Syria
US Secretary of State John Kerry has called on his Russian counterpart and warned them that Washington will end talks on the Syrian conflict unless Moscow halts the assault on Aleppo.
A State Department spokesman said Mr Kerry told Foreign Minister Sergei Lavrov that plans to set up a joint US-Russia military cell to target jihadist groups in Syria would also be put on hold.
The spokesperson said: "He [Mr Kerry] informed the foreign minister that the United States is making preparations to suspend US-Russia bilateral engagement on Syria ... unless Russia takes immediate steps to end the assault on Aleppo and restore the cessation of hostilities."
Meanwhile, a UNICEF representative for Syria said that children in the eastern areas of Aleppo are coming under the most shocking attacks and bombardments and there is nowhere safe for them to go.
Kieran Dwyer said the escalation of attacks in built-up residential areas, where it is estimated over 100,000 children live, began about a week ago.
Schools and hospitals have gone underground into bunkers and cellars, he said, while families are also huddling into the basements of buildings during the attacks.
However, he warned that weapons are now targeting underground areas.
Speaking on RTÉ's News At One, Mr Dwyer said that these attacks go on all day and all night.
He said hospitals in eastern Aleppo have around 30 doctors left who are trying to treat thousands of people.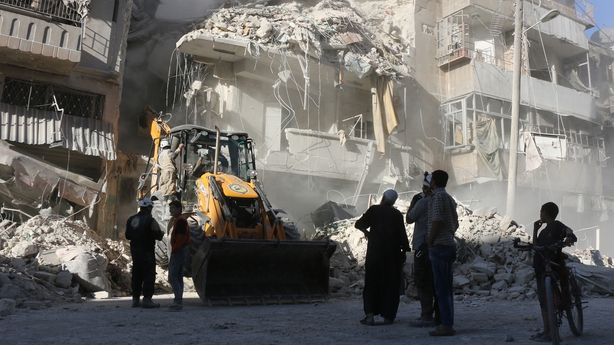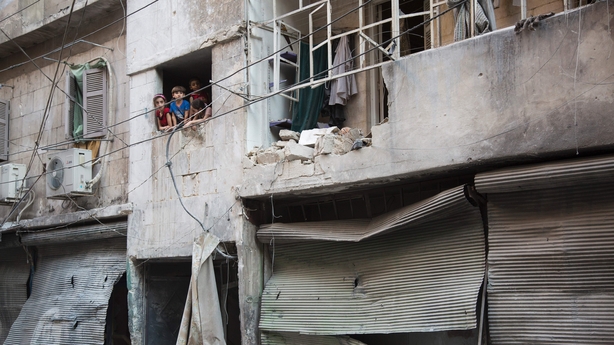 Mr Dwyer said that doctors have told them they have to make the terrible decision not to treat the most seriously injured children because they simply do not have the supplies to help them.
He said: "We desperately need these indiscriminate attacks to end and the children desperately need for us to get our medical supplies in, our health supplies in, more health workers…
"We have convoys ready to go, we could go almost immediately into eastern Aleppo if there was calm and if we could be given access."
He said that those with power have the capacity to turn the fire off.
Pope speaks of 'battered city' of Aleppo
Pope Francis has said those behind the bombing of Aleppo will have to "answer before God".
Speaking during his weekly address in St Peter's Square, without naming Syria or Russia, the Pope spoke of his "deep pain and serious concern about the events" in the Syrian city.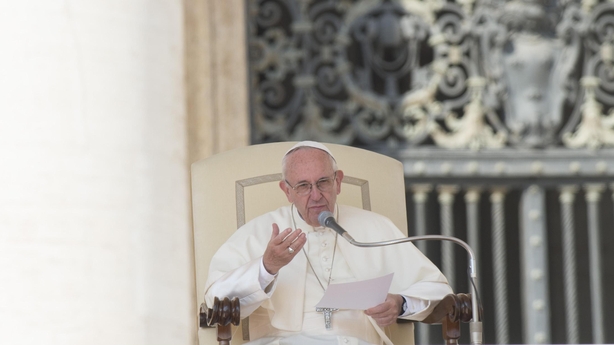 The Pope referred to Aleppo as a "battered city where children, the elderly, the sick, the young, the old are dying ... so many people."
The recent airstrikes have been some of the fiercest since the start of the five-year conflict in Syria.
They followed last week's collapse of a ceasefire deal brokered by Washington and Moscow.
The Pope's comments come two days after the US accused Moscow of "barbarism" over the carnage in Aleppo, where France said yesterday that "war crimes" were being committed.