UN Secretary-General Ban Ki-moon has urged world powers to work harder to end the nightmare in Syria as the Security Council met for urgent talks on the escalating war.
"What excuse is there for anything less than determined action to stop the mayhem? How much longer will all those with influence allow such cruelty to continue? I urge all involved to work harder for an end to the nightmare," Mr Ban (below) said.
The US ambassador to the UN, Samantha Power, said Russia's action in Syria was barbarism, not counter-terrorism.
Russia backs Syrian President Bashar al-Assad against rebels seeking to topple him.
But Russia defended its position.
"In Syria hundreds of armed groups are being armed, the territory of the country is being bombed indiscriminately and bringing a peace is almost an impossible task now because of this," Russian UN Ambassador Vitaly Churkin told the council.
The United Nations' Special Envoy on Syria Staffan de Mistura told the same meeting he was convinced the situation in Syria could still be turned and said he would not quit, as Russia and the United States try to salvage a ceasefire.
"War crimes are being committed here in Aleppo," French Ambassador Francois Delattre said, adding: "They must not be unpunished and impunity is simply not an option in Syria."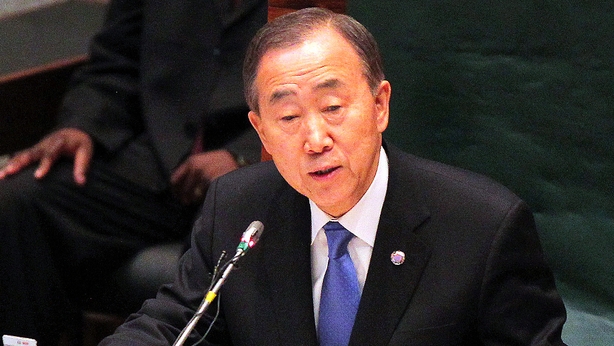 The Security Council was holding urgent talks after Mr Ban said he was appalled by the "chilling" air bombardments on Aleppo and warned that the use of advanced weaponry could amount to war crimes.
"Just when we thought things couldn't get any worse in Syria, they have," British Ambassador Matthew Rycroft said.
We need your consent to load this rte-player contentWe use rte-player to manage extra content that can set cookies on your device and collect data about your activity. Please review their details and accept them to load the content.Manage Preferences
The meeting was called by Britain, France and the United States to turn up the pressure on Russia to rein in its ally Syria and halt the intense bombing campaign on Aleppo.
Residents and a monitor reported heavy air raids overnight and early today on the besieged east of the city, which Syria's army has pledged to retake.
At least 115 people, mostly civilians, have been killed in Syrian and Russian bombardment of eastern Aleppo since the army announced an operation to take it on Thursday, the Syrian Observatory for Human Rights said.
Syria's mainstream rebel groups have said the escalating Russian-backed bombing of Aleppo had rendered any peace process futile unless there was an immediate halt to fighting and aid deliveries under UN auspices.
In a statement signed by more than 30 rebel groups, including the biggest faction backed by Turkey, Gulf states and the West, they said the bombing campaign that has killed scores in the past few days was "unprecedented" and rendered futile the UN-backed political process Washington and Moscow seek to revive.
The statement also said rebels could not accept "Russia as a sponsor because it was a partner with the regime in its crimes against our people," saying Russian-backed Syrian forces were using napalm and chemical weapons without censure by the international community.