Nearly a week of protests over the police killing of a black man in Charlotte, North Carolina, showed no signs of abating after police released videos showing the victim being shot but did not answer the question of whether he had a gun.
Hundreds marched through the centre of Charlotte on a fifth night of demonstrations that stretched into this morning, including white and black families protesting police violence.
One sign read "Stop police brutality" and another showed a picture of a bloody hand print with the phrase #AMINEXT, a social media tag about the fear of becoming a victim of police.
For the first time in three nights, police enforced a curfew, saying they would arrest violators. A crowd gathered outside police headquarters dispersed without any violence shortly after midnight.
Charlotte police released two videos last night showing the fatal shooting on Tuesday of Keith Scott, 43.
Police in Charlotte, North Carolina have released dashcam and body camera footage of the controversial shooting of Keith Scott. pic.twitter.com/93DSU5uSib

— RTÉ News (@rtenews) September 25, 2016
The controversial death has made Charlotte, North Carolina's largest city and a financial centre, the latest flashpoint in two years of tense protests over police killings of black men, most of them unarmed.
Charlotte-Mecklenburg Police Chief Kerr Putney acknowledged that the videos themselves were "insufficient" to prove that Scott held a gun but said other evidence completed the picture.
 
"There is no definitive visual evidence that he had a gun in his hand," Mr Putney said. "But what we do see is compelling evidence that, when you put all the pieces together, supports that."
Police said officers trying to serve an arrest warrant for a different person caught site of Mr Scott with marijuana and a gun, sitting in a car in a parking lot.
"They look in the car and they see the marijuana, they don't act. They see the gun and they think they need to," Mr Putney said.
Both Mr Scott's family and protesters have disputed the police statements that Mr Scott was carrying a gun.
Police released photos of a marijuana cigarette, an ankle holster they said Mr Scott was wearing, and a handgun, which they said was loaded and had Mr Scott's fingerprints and DNA.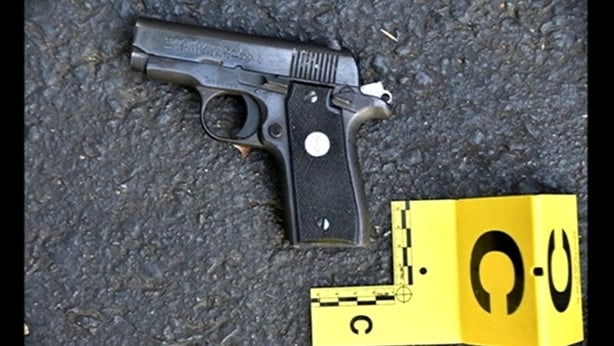 But Scott's family, which released its own video of the encounter on Friday, said the police footage showed the father of seven was not acting aggressively and that the police shooting made no sense, with no attempt to de-escalate the situation.
The family video, shot by Mr Scott's wife, was also inconclusive on the question of a gun. 
Wife of African-American man whose death has triggered days of unrest in #Charlotte, North Carolina, releases video of shooting pic.twitter.com/PCnkXwZfYA

— RTÉ News (@rtenews) September 23, 2016
In one of the police videos, a dashboard-mounted camera from a squad car showed Scott exiting his vehicle and then backing away from it. Police shout to him to drop a gun, but it is not clear that Mr Scott is holding anything. Four shots then ring out and Mr Scott drops to the ground.
A second video, taken with an officer's body camera, fails to capture the shooting. It briefly shows Mr Scott standing outside his vehicle before he is shot, but it is not clear whether he has something in his hand.
The officer then moves and Mr Scott is out of view until he is seen lying on the ground.
At least five people who appear to be police officers are seen in the bodycam video. Both videos show Mr Scott moving at a measured pace with his hands at his sides.
"He doesn't appear to be acting aggressively to the officers on the scene," Justin Bamberg, a lawyer for the Scott family, told a news conference.
Mr Scott's brother-in-law, Ray Dotch, said: "He was an American citizen who deserved better."
Another lawyer for the Scott family, Charles Monnett, said,the family did not know enough of the facts to know whether the officer who killed Mr Scott should face charges.
The two-minute video recorded by Mr Scott's wife on a cellphone showed the scene of the shooting, but not the shooting itself. In the video, Ms Scott can be heard telling officers that her husband has TBI, a traumatic brain injury.
"Don't shoot him! He has no weapon" she cries as police yell at Mr Scott, "Drop the gun!" Then shots sound.
Marchers yesterday evening focused their demands squarely on stopping police violence, after on previous evenings protesters' priority was release of police tapes.
"No justice, no peace, no racist police," demonstrators chanted.