Plans for a new road to alleviate chronic traffic congestion in a Galway business park have been rejected by An Bord Pleanála.
The decision has angered multi-national companies at Parkmore Industrial Estate.
They say the daily log-jam of an hour or more will jeopardise future foreign direct investment.
There are over 6,000 people working at Parkmore - a major medical devices hub where companies such as Medtronic, Merit Medical and Creganna Medical are based.
Workers face ongoing delays of up to an hour or more getting in and out of the business park.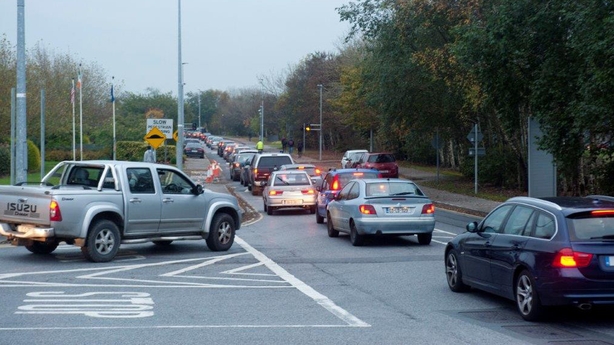 Planning permission for a new link road at Parkmore Drive was granted by Galway County Council earlier this year.
But the decision was appealed by a local resident and a representative of the Galway Cycling Campaign on road safety grounds.
Cyclist Shane Foran said there were questions to be asked about the design submitted, which he said conflicted with guidelines and standards set out in the Design Manual for Urban Roads and Streets.
An Bord Pleanála said that while a new road was acceptable in principle, there remained concerns about vulnerable road users including pedestrians and cyclists.
General Manager of Creganna Medical and spokesperson for the Parkmore Traffic Group Pat Duane said the decision is hugely disappointing given the thousands of people working at Parkmore.
The IDA is also concerned about "reputational damage" and retaining and attracting business at Parkmore due to poor infrastructure.
Chair of the Galway Chamber Traffic and Transportation Committee Chris Coughlan said that he was shocked by the decision.
"I think this refusal is a serious blow to business in the area, to the employees of those businesses and to future businesses wishing to locate in Parkmore and in Galway.
"The proposed link road, while not expected to solve all the traffic problems, would have been an excellent start," he said.
Mr Coughlan urged the IDA, its consultants and stakeholders to continue their work and to make the amendments necessary to the application as prescribed by An Bord Pleanála to ensure that the proposal will encompass the accommodation of cyclists and walkers as well as the larger business community in Parkmore.
"Parkmore is key to Galway's business community and the employees situated there must have their daily struggles with traffic congestion resolved. This matter must be prioritised and urgently resolved," he added.
As pressure mounts on local authorities to resolve the traffic crisis, a number of options are being considered, including roundabout improvements at Parkmore, changes to traffic light systems, the introduction of a bus lane along the N17 together with a park and ride facility. 
A possible redesign of the proposed new link road is also on the table for discussion.