Taoiseach Enda Kenny has said the Citizens' Assembly will hold its first meeting on Saturday 15 October.
The Assembly is to consider several topics, including the Eighth Amendment, the ageing population, fixed term parliaments, referendums and climate change.
Speaking at a media briefing this morning, Mr Kenny said it could take six to seven months to report its recommendations but that it is not clear.
He also said a polling company had been appointed in terms of recruiting citizens to form an assembly.
In a wide-ranging briefing, he said it is his impression that Britain will trigger Article 50 to leave the European Union at the end of January or February.
He said this was based on his discussions with members of the British government and also his impression from a European point of view.
However, he said it was a matter for British Prime Minister Theresa May.
Enda Kenny said it is his impression that Britain will trigger article 50 at end of January or Feb @rtenews

— Martina Fitzgerald (@MartinaFitzg) September 21, 2016
He described Fianna Fáil's decision in favour of abolishing water charges as a reversal to old populism and said Fine Gael supported a single utility and a fair and affordable regime for water.
The expert commission on water would report back in November, he added.
The Fine Gael leader said he would be receiving submissions from the Opposition on a further investigation into Project Eagle by Friday.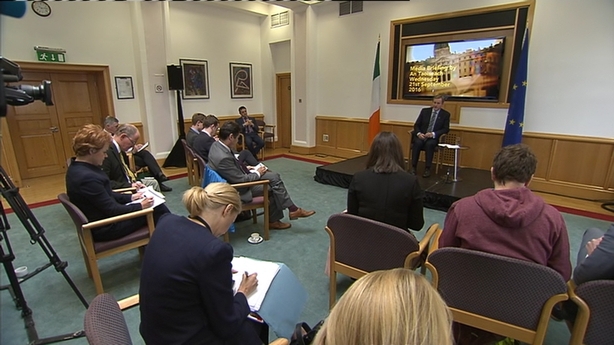 He said it would have to be established what kind of investigation they could proceed with.
He also rejected calls for the National Asset Management Agency's programme of sales to be suspended.
Mr Kenny pointed out that NAMA was involved in the provision of 20,000 social housing units and also pointed to its development programme.
He said it was due to conclude two years ahead of schedule.
Asked about his intentions regarding the Fine Gael leadership, Mr Kenny said he had an extensive agenda in terms of housing, homelessness and the Citizens' Assembly.
He said it was a big agenda and everyone needed to put their shoulders to the wheel.
On Budget 2017, he said Fianna Fáil had agreed to facilitate three budgets.
He said Minister for Finance Michael Noonan would have talks with Fianna Fáil finance spokesperson Michael McGrath, but added that it was a Government budget.