The mother of a baby who died at Cavan General Hospital over two years ago has told an inquest that his loss has changed her family's life forever and she is devastated that she will never hug or care for her little son.
Conor Whelan died at the hospital on 14 May 2014, less than one day after he was born.
An inquest into Conor's death opened this morning at Cavan Courthouse and is expected to last three days.
The jury heard how Siobhan Whelan was due to give birth to her son on 4 May 2014 and she was scheduled for induction of labour on 14 May.
However, when she was nine days overdue, on 13 May 2014, Ms Whelan said she began to get contraction pains and went to hospital with her husband Andrew.
Upon arrival at the hospital at 12.40pm in the afternoon Ms Whelan was sent to the maternity unit.
The inquest heard that as Ms Whelan was walking to the labour ward she felt a trickle down her legs and thought that her waters had broken.
The jury heard how when she looked down she realised that blood was gushing down her legs.
Her husband called for help and nursing staff arrived and put Ms Whelan into the labour ward.
They advised her that she had just suffered a rupture of the membranes; Ms Whelan told the inquest that she was concerned about this.
She was put on a cardiotocography (CTG) trace, which appeared to show the baby's heart going down with each contraction.
Ms Whelan broke down as she told the inquest that she and her husband begged the nursing staff to call a doctor to arrange a Caesarean section.
She said two doctors arrived and a vaginal examination was carried out.
More blood seemed to come away during the performance of the vaginal exam and Ms Whelan told the inquest that her husband Andrew was angry and shouting.
They were advised that a senior doctor would be there shortly.
When the senior doctor arrived she said that she would break Ms Whelan's waters to establish what the condition of them were.
Ms Whelan told the inquest that she begged her not to break her waters and asked her instead to bring her to theatre for a C-section.
The jury heard there was then "pandemonium" and Ms Whelan was rushed to theatre.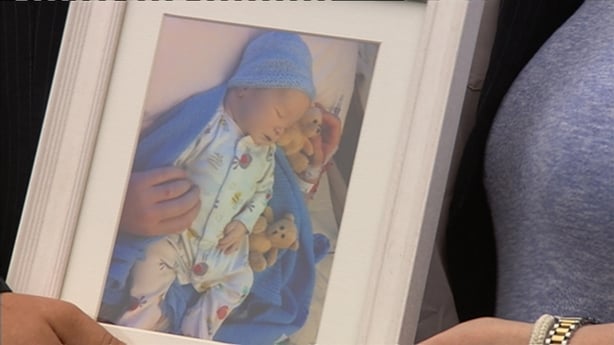 Baby Conor was born at 1.49pm weighing 8lb 1oz.
Ms Whelan said she suffered a vascular bleed following the birth and spent nine days in the intensive care unit.
She said her son was taken to the Rotunda Hospital where it was confirmed there was no brain activity.
Baby Conor was taken back to Cavan General Hospital to be with his mother and sisters Susie and Ella. He died at 7.25am on 14 May 2014.
Ms Whelan told the inquest she was devastated that she would not be able to cuddle, caress or care for her baby and thoughts of baby Conor fighting for his life will haunt her family forever.
Ms Whelan said the hospital wanted her backing for a press release, following baby Conor's death, stating maternity services at the hospital were safe. However, she could not give it.
She told the inquest her baby died and she had almost died and she wanted answers to ensure this never happened again.
Mr Whelan broke down in tears as he told the inquest that no one listened to him and his wife when they begged for a C-section.
He said his family's life has been changed and despite all the help and support, they face a battle to find answers.
Dr Eoin Mooney, a consultant histopathologist called on by the hospital, has told the inquest that baby Conor was severely anaemic and this was consistent with massive blood loss.
He said this bleeding occurred substantially before Ms Whelan's membranes ruptured.
He said tests showed that blood on Ms Whelan's shoes was from Conor and not his mother.