A leading multinational is to invest €150m in the development of four advance factories to manufacture next-generation medicines and healthcare products at an IDA Ireland site in Ringaskiddy, Co Cork.
GE Healthcare says it expects that 500 jobs will be created when the factories are operational.
GE Healthcare is a UK-headquartered multinational which employs 46,000 people worldwide, 600 of them in Cork.
Biopharmaceuticals and biologics are the next generation of medicines and healthcare products.
The sector currently employs 28,000 people in Ireland and it has been targeted by IDA Ireland and the Department of Jobs for rapid expansion.
Today's announcement is part of that work.
GE Healthcare says it will invest €150m in the construction of four advance biopharmaceutical factories at Ringaskiddy.
The factories will be managed by GE Healthcare, but will be owned and operated by independent biopharmaceutical companies.
Speaking on RTÉ's Morning Ireland, GE BioPark General Manager David Radspinner said 100 of the jobs are guaranteed because they will be with GE.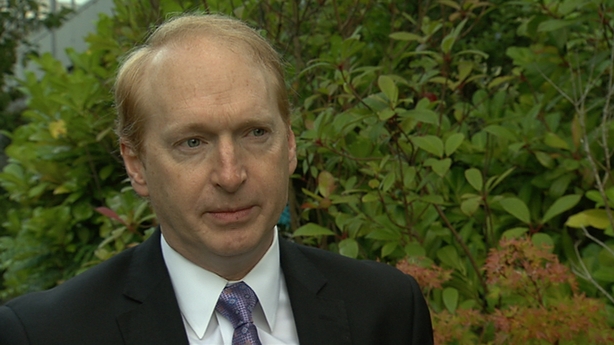 He said he hopes that construction will start early next year and will be completed in late 2018.
Ireland has long been a major base for drug companies such as Pfizer and it has recently seen a wave of new investments by firms making biotech medicines.
"Ireland is a real hub for biopharmaceuticals, so it's logical to do it there," Kieran Murphy, chief executive for life sciences at GE Healthcare, said. 
"It's one of the key places people are going in the world, along with Singapore, Korea and China," he added.
GE reckons its off-the-shelf modular factories are 25-50% cheaper than the traditional plants needed for making complex biological medicines. 
They can also be constructed in just 18 months rather than the typical three years.
GE life sciences sales reached $4 billion in 2015, out of total GE Healthcare revenue of $18 billion. 
The company's technology is already used to make leading antibody drugs and the company also aims to become a big supplier in the emerging field of cell therapy. 
GE is expected to start building the factories in Cork next year.
The conglomerate has yet to line up buyers for the units but Kieran Murphy said: "I don't think it will take us very long to snag the first customer."
Ireland has been attracting drug makers since the 1970s, helped more recently by its 12.5% corporate tax rate. 
Nine of the top 10 global drug companies today have an international base in Ireland. 
In a related development, GE Healthcare is also announcing a partnership with the National Institute for Bioprocessing Research and Training to train 1,500 biopharmaceutical engineers, chemists and pharmacists per year at a centre of excellence in Dublin.
Meanwhile, 175 jobs have been announced by three companies in Dublin and Galway in the biopharmaceutical and software sectors.