Russian President Vladimir Putin said the ruling United Russia party won today's parliamentary election.
"We can say with certainty that the party has won," Mr Putin told campaign workers at the United Russia headquarters, standing alongside United Russia leader and Prime Minister Dmitry Medvedev.
A state exit poll gave United Russia almost 45% in the elections.
Alluding to a sharp slowdown in the Russian economy, Mr Putin said: "The situation is not easy, people feel that, and they want and hope that the political situation should be stable."
Russian state pollster VTsIOM put United Russia on 44.5%, ahead of the ultra-nationalist Liberal Democratic Party on 15.3%, the Communists on 14.9% and A Just Russia on 8.1%.
The four leading parties - which made up the last parliament and all back the Kremlin - were the only ones that cleared the 5% bar to claim half the seats up for grabs.
After a change to the election law, the other half of the deputies in the 450-seat legislature are being elected on a constituency basis, with the pro-Kremlin parties also expected to dominate.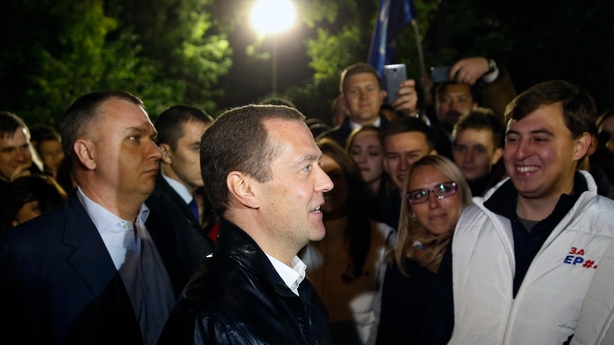 "We can confidently say that United Russia has won," Mr Medvedev (above) said on state television, adding that the party would have an "absolute majority" in the new legislature.
The turnout of the vote, three hours before polls closed, stood at just under 40%, significantly down from the last parliamentary elections in 2011.