German Chancellor Angela Merkel's conservatives suffered their second electoral blow in two weeks, slumping to their lowest level since reunification in 1990, in a Berlin city vote in which citizens roundly rejected her open-door refugee policy.
Voters turned to the anti-immigrant Alternative for Germany (AfD) which, with 12.2% of the vote, will enter its tenth regional assembly of the country's 16 states.
A year before a federal election, the result is likely to raise pressure on Ms Merkel and deepen divisions within her conservative camp.
"There is no question. We didn't get a good result in Berlin today," said Michael Grosse-Broemer, a senior CDU lawmaker. However, he blamed his party's historic losses in Berlin primarily on local issues.
"I think it is dangerous to transfer the Berlin result to the federal level," he told broadcaster ZDF.
A backlash against her migrant policy has raised questions about whether Ms Merkel, Europe's most powerful leader, will stand for a fourth term next year. But given a dearth of options in her party, she still looks the most likely candidate.
Initial projections from broadcaster ZDF put Ms Merkel's Christian Democrats (CDU) on 18%, down from 23.3% in the last election in 2011.
The Social Democrats (SPD) also lost support, falling to 23.1% from 28.3% but remained the biggest party and are likely to ditch the CDU from their current coalition.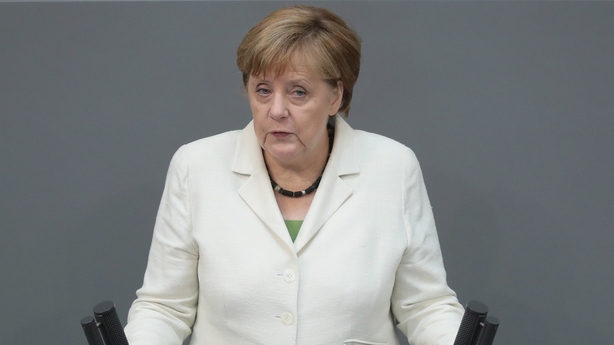 The result compounds Ms Merkel's problems after a rout in the eastern state of Mecklenburg-Vorpommern two weeks ago triggered calls from her conservative allies in Bavaria to toughen up her migrant policy.
In particular, they want a cap of 200,000 refugees per year but Ms Merkel has rejected this outright.
The AfD has campaigned heavily on the migrant issue, playing to voters' fears about the integration of the roughly one million migrants who entered Germany last year.
"From zero to double digits, that's unique for Berlin. The grand coalition has been voted out - not yet at the federal level, but that will happen next year," said AfD candidate Georg Pazderski to cheering supporters after the results.
The SPD, Ms Merkel's junior coalition partner at the federal level, wants to form a coalition with the Greens and possibly the radical Left party.
The increasingly heated debate about Ms Merkel's migrant policy boosted overall turnout, which jumped to 66%, up six points from the last election in 2011, according to broadcaster ARD. This was the highest turnout in Berlin since 2001.