US Republican presidential nominee Donald Trump, who has long questioned President Barack Obama's US citizenship, has said he believes the president was born in the United States.
"President Barack Obama was born in the United States, period," Mr Trump said at a campaign event.
Trump: 'President Barack Obama was born in the United States, period.' https://t.co/hzu8DCYYGe pic.twitter.com/aIcR2OKd2P

— RTÉ News (@rtenews) September 16, 2016
In an interview with the Washington Post yesterday, Mr Trump declined to say whether he believed Mr Obama was born in Hawaii.
"I'll answer that question at the right time. I just don't want to answer it yet," Mr Trump told the newspaper.
Those comments drew criticism from Democratic presidential candidate Hillary Clinton, who expressed dismay at Mr Trump's response during remarks to a gathering of Hispanic leaders in Washington.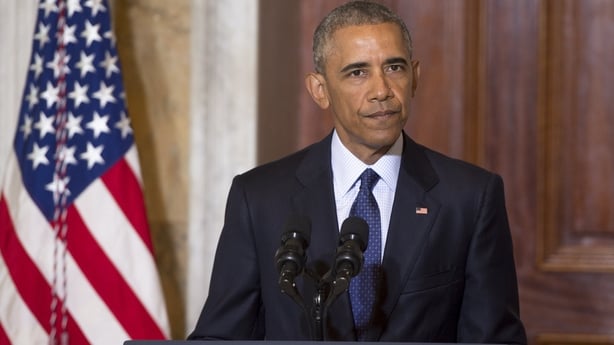 "He still wouldn't say Hawaii. He still wouldn't say America. This man wants to be our next president?" Mrs Clinton said.
"When will he stop this ugliness, this bigotry? Now he's tried to reset himself and his campaign many times. This is the best he can do. This is who he is," she said.
A few years into his presidency, Mr Obama, the first African-American to win the White House, released a longer version of his birth certificate to answer those who suggested he was not US born.
"In 2011, Mr Trump was finally able to bring this ugly incident to its conclusion by successfully compelling President Obama to release his birth certificate," Mr Trump's senior communications advisor Jason Miller said in a statement last night.
"Having successfully obtained President Obama's birth certificate when others could not, Mr Trump believes that President Obama was born in the United States," he said.
Mr Trump has been trying to drum up support among black voters, who overwhelmingly supported Mr Obama in his 2008 and 2012 elections.
Many African-Americans object to Mr Trump's involvement in the "birther" movement that questioned President Obama's US citizenship, and the implication that Mr Obama's presidency was illegitimate.
Meanwhile, in a more light-hearted moment, Mr Trump's enigmatic hair has been put to the test on US television.
Mr Trump appeared on one of America's most popular late-night broadcasts, 'The Tonight Show Starring Jimmy Fallon'.
Fallon did an impression of Mr Trump's speaking style, ribbed him and concluded his interview with a request.
"Can I mess up your hair?"
The comic explained that this might be the last time he could ask to do something unpresidential with Mr Trump, lest he win the election in November against Mrs Clinton.
The audience cheered on the presenter and Mr Trump grinned and agreed.
Fallon reached out with his right hand and messed Mr Trump's hair with a vigorous, repeated rub which Mr Trump endured with a broad smile.
Nothing fell off with Fallon's intervention but the result was not very pretty as Mr Trump's long locks ended up pointing messily every which way.
Mrs Clinton yesterday returned to the campaign trail after taking three days off for pneumonia.
She appeared in good health on a visit to the press section of her campaign plane while flying to North Carolina, for a rally where she sought to refocus her campaign on the plight of the working class.