Hillary Clinton has returned to the campaign trail after taking three days off for pneumonia.
The Democratic presidential candidate faces a more challenging political landscape, with Republican rival Donald Trump rising in opinion polls.
Senior aides for Mrs Clinton said they always expected the race to the 8 November election to be close. But it was clear from a raft of new polls that Mr Trump had halted a summer swoon after taking steps to deliver a less freewheeling, more polished performance on the stump.
Mrs Clinton, 68, appeared in good health on a visit to the press section of her campaign plane while flying to Greensboro, North Carolina, for a rally where she sought to refocus her campaign on the plight of the working class.
She said: "I want you to think with me for a minute about how I certainly feel lucky when I'm under the weather I can afford to take a few days off. Millions of Americans can't."
On Sunday, Clinton nearly collapsed at a ceremony marking the 11 September 2001, attacks in New York.
Earlier, Mr Trump released lab results from a recent medical examination, with his personal physician stating that the Republican presidential candidate "is in excellent physical health."
The 70-year-old is 1.90m tall, weighs 107kg, and his liver and thyroid functions are "all within the normal range," his long-time doctor Harold Bornstein wrote in a one-page letter.
The letter also lists Mr Trump's cholesterol, triglycerides, blood sugar and blood pressure results.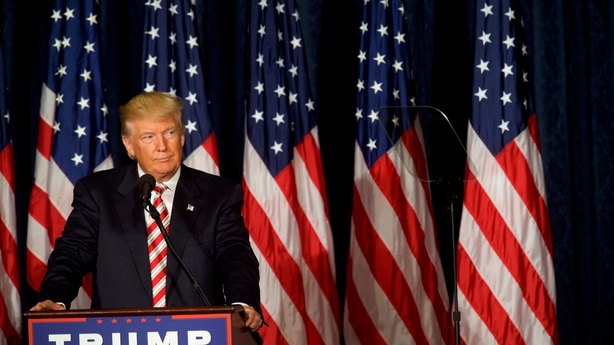 "He takes a lipid lowering agent (rosuvastatin) and a low dose aspirin. He does not use tobacco products or alcohol," he added.
Mrs Clinton's strong lead over Mr Trump in most opinion polls after the party-nominating conventions in July narrowed throughout August.
A New York Times/CBS News poll released today showed Mrs Clinton had the support of 46% of likely voters nationwide, with 44% backing Mr Trump.
Battleground states such as Ohio and Florida are no longer considered likely wins for the Democratic nominee, according to the Reuters/Ipsos States of the Nation project released on Saturday.
Mrs Clinton yesterday released a letter from her physician to dispel rumors about her health.
The letter detailed her pneumonia diagnosis and declared her fit for the presidency.
Mr Trump discussed his health in a segment of the "Dr. Oz Show" that will air in the US later.