Dublin Bus has said the announcement by unions of 13 additional strike days over the next six weeks is "unnecessary and unjustified" and will continue to cause significant disruption to its customers and trade in Dublin city.
This afternoon unions served notice of 13 additional days of strikes by workers between now and the end of October.
The dates are Tuesday 27 and Wednesday 28 September, Saturday 1 October, Wednesday 5 October, Friday 7 October, Monday 10 October, Wednesday 12 October, Friday 14 October, Tuesday 18 October, Wednesday 19 October, Monday 24 October, Wednesday 26 October and Saturday 29 October.
Today was the third day of strike action, with an estimated 400,000 Dublin Bus customers affected by the shutdown.
The new dates are in addition to tomorrow's strike and another two-day stoppage set for 23-24 September.
Following the announcement, Dublin Bus said that to date the industrial action has cost it in excess of €4m and "continues to impact the financial stability of the company".
The statement went on to say that the company "will now assess the full implications of today's announcement" by the unions.
The National Bus and Railworkers' Union said it "is unfortunate" that Dublin Bus and those responsible for providing a public transport service for the citizens of Dublin "will not engage" with bus workers over the claim for "a long overdue pay rise".
In a statement, SIPTU Divisional Organiser Owen Reidy said the union's members are "disappointed that the only response so far from the CEO of Dublin Bus to this dispute has been to call for talks at the Workplace Relations Commission to discuss a Labour Court recommendation that has already been rejected by over 90% of our members." 
Minister for Transport Shane Ross has said that he "greatly regrets the grave inconvenience caused to the travelling public by this ongoing dispute."
He called on management and unions to engage with each other immediately.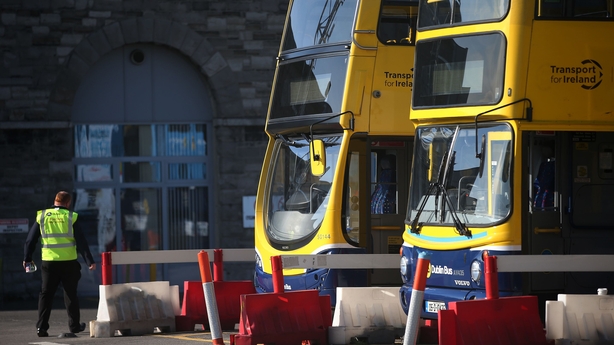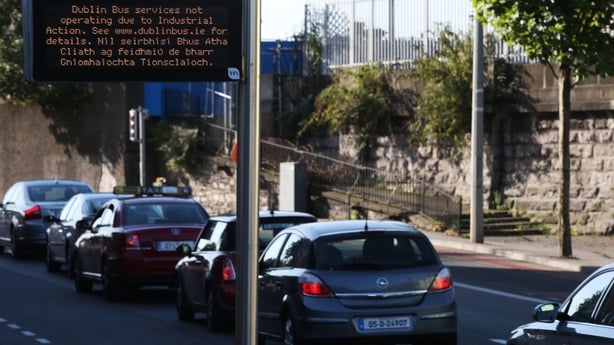 Mr Reidy accused the Government and the National Transport Authority of having no interest in the dispute, which has paralysed Dublin Bus services for a third day.
Mr Reidy said yesterday's letter from Dublin Bus Chief Executive Ray Coyne asking staff to the WRC for talks about the Labour Court recommendation did not stand up to scrutiny.
He said that his union had a mandate for an all-out strike, and that it was a possibility.
However, he described it as the "nuclear option", adding that he did not think anyone wanted that.
Mr Reidy accepted that there was an onus on staff to be flexible, saying they would not be found wanting if they could get to the table. However, he said no one appeared to want to get into that space with them.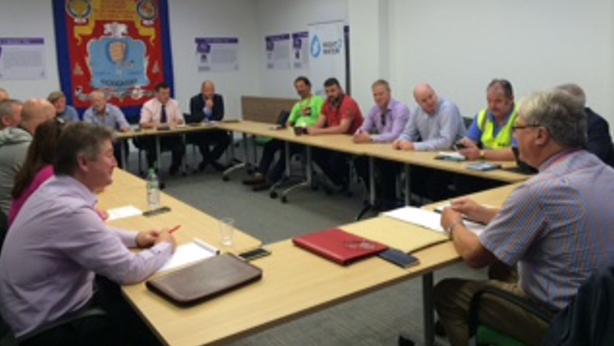 Dublin Bus has urged staff to attend the WRC for negotiations but stressed that it cannot exceed the three-year 8.25% pay deal, with no productivity, awarded by the Labour Court.
However, it is prepared to discuss further increases based on productivity.
Unions are demanding a basic increase of 15% over three years before they will discuss productivity, and object to what they call preconditions.
Minister Ross has said the Government will not fund pay hikes.
Speaking on RTÉ's Six One, NBRU General Secretary Dermot O'Leary said the union is willing to engage in discussions with Dublin Bus at the WRC but only if there are no pre-conditions.
"They want to talk about productivity. In other words, they want staff to pay for their own payrise.
"The staff have done a lot in the last eight years towards paying for the company to get back into profit, if you will.
He continued: "So the staff are saying quite clearly, 'you asked us to put our shoulder to the wheel for eight long years - we've done that, we've got you back in profit - now it's our turn."
Mr O'Leary said the company wanted to talk about productivity exclusively in the context of building on the 8.25% award from the Labour Court. 
However, he stressed that that recommendation had been rejected by all unions and thus had no status. He said they could not have a situation where the company was using bits of a rejected recommendation to support its position and putting preconditions in place. 
He confirmed that the pay claim for 15% over three years remained unchanged.
Unite Regional Officer Willie Quigley, who today chaired a meeting of all the unions involved in the dispute, has said "the Government bears full responsibility for the dispute's escalation".
Mr Quigley said Unite's members "have been left at the end of the queue for too long, and are determined to continue their struggle for decent wages which reflect their contribution to the life of this city".
Dublin Bus workers plan to hold a rally outside the Dáil on 27 September to highlight their issues and unions will meet on 14 October to review the situation at that point and possible further escalation, according to Mr Quigley.
City businesses say sales down over bus strike
Meanwhile, CEO of Dublin Town Richard Guiney has said the footfall in Dublin city centre is down due to the bus strike. 
Speaking on RTÉ's Today with Sean O'Rourke, he said there is a noticeable drop in sales since the first series of work stoppages began last week.
"Speaking to our members, 90% of them said their sales were down and the typical sales were down by as much as 25% so this is something very concerning for us."
He said that many businesses had issues with staff getting to and from work and that there was a particular issue for night time businesses, with staff leaving later in the evening and usually dependent on a night bus now having to get a taxi. 
As Culture Night gets under way tomorrow he thinks numbers will be affected as the strike continues. 
Mr Guiney said there is a much wider economic context to the bus system as it feeds into the ability of many businesses to operate. 
"So we really, really would urge people to get around the table again and try thrash this out. The reality is that it will be resolved at some stage and the fervent view of our members is sooner rather than later."
He said he is hopeful there will be a resolution before November when Christmas shopping gets under way in earnest. 
The Director of Policy and Advocacy at the National Council for the Blind has said people who are blind and visually impaired, and completely dependent on public transport, are being seriously affected by the strike because they cannot simply decide to drive or get on a bike as a means to get to where they need to go.
Speaking on RTÉ's Morning Ireland, Elaine Howley said many people are being forced to take annual leave because they cannot get to work, while others will be unable to leave their homes.
We need your consent to load this rte-player contentWe use rte-player to manage extra content that can set cookies on your device and collect data about your activity. Please review their details and accept them to load the content.Manage Preferences