Taoiseach Enda Kenny has said the death of Irish Coast Guard volunteer Caitríona Lucas during a search operation off Co Clare has cast a "dark shadow" across the country.
Ms Lucas, a 41-year-old mother of two living in Liscannor in Co Clare, was searching for a missing man with two other volunteers when their rigid inflatable boat overturned near cliffs at Kilkee this afternoon.
A rescue operation was launched to assist them but Ms Lucas died shortly after she was airlifted from the water by the Shannon rescue helicopter.
The two others, a man and a woman, were airlifted to safety and are understood to be in a stable condition in University Hospital Limerick.
Mr Kenny said: "The heroic work and selflessness of the Irish Coast Guard is well known around our coastline.
"To learn of the death of Caitríona, and of injury to her colleagues brings home the real dangers our rescue personnel face and this awful news casts a dark shadow over people all over the island."
Minister for Transport Shane Ross said "Caitríona was a member of that extraordinary group of men and women who dedicate their skills, time and passion so that others may be safe on our coastlines."
"This is an appalling tragedy; the loss of a brave and valiant woman engaged in the most heroic of and unselfish of duties."
An investigation into the incident will be conducted by the Department of Transport.
Ms Lucas's husband Bernard is also a Coast Guard volunteer.
It is understood the mission they had been tasked on was a "recovery" for the body of the missing man rather than a rescue.
A major search operation got under way after the boat overturned, which involved another unit from Kilkee and the rescue helicopter from Shannon.
The boat's coxswain was rescued 24-30m down the cliff in testing conditions, a Coast Guard spokesperson said.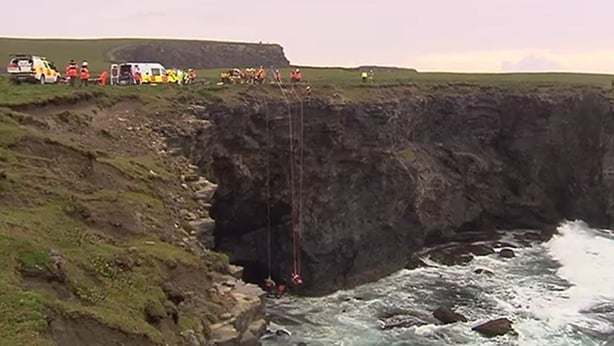 Coast Guard crew member dies on search operation in Kilkee, Co Clare- @TeresaMannion reports  https://t.co/OKirZd13MQ

— RTÉ News (@rtenews) September 12, 2016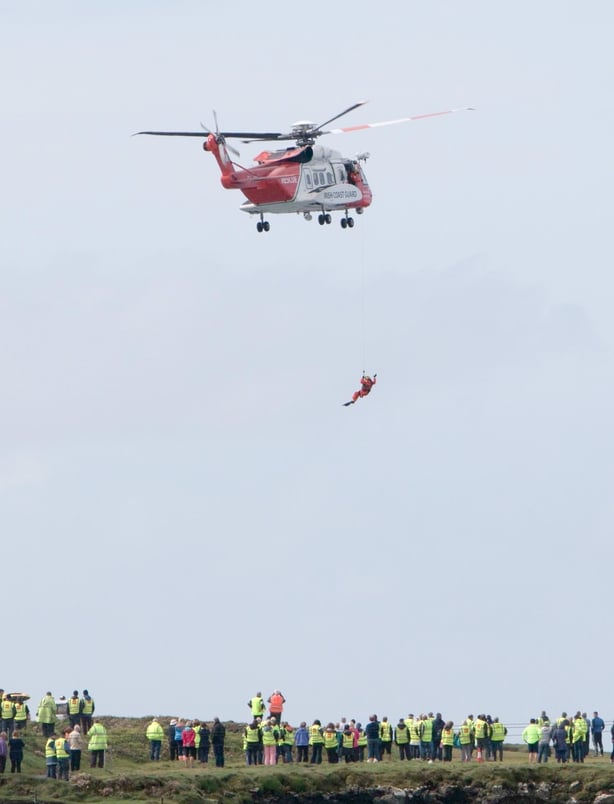 Doolin Coast Guard, the RNLI and the Lahinch Surf Rescue Team and divers were also involved in the final rescue.
Fianna Fáil TD for Clare Timmy Dooley was at the scene for two hours while efforts were made to bring the coxswain to safety.
"Obviously there are two tragedies. Today has added to the level of upset in the area," Mr Dooley said.
"It's devastating for the two families of the two communities."
He continued: "What makes it even worse is that someone in the line of duty, a frontline worker, has lost their life ... it brings into sharp focus what people in the frontline encounter on a daily basis."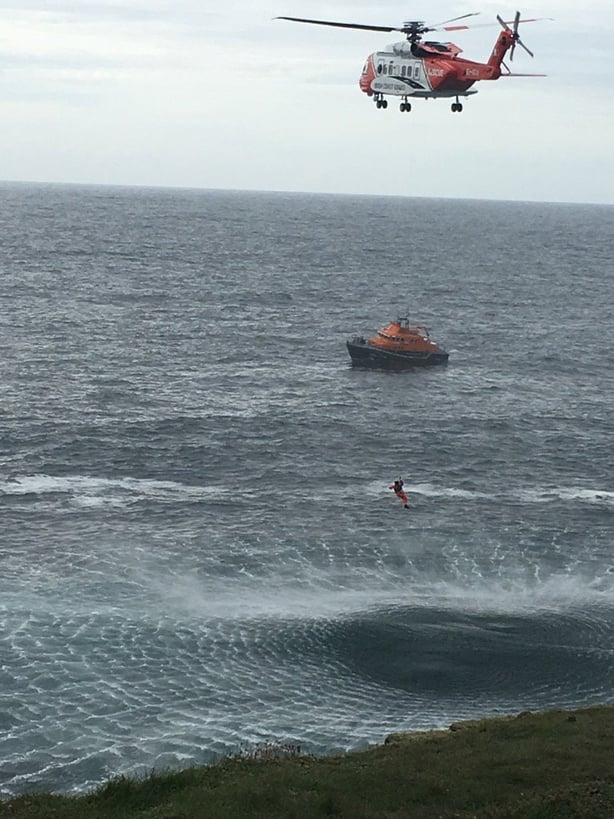 Operations Manager with the Irish Coast Guard Declan Geoghegan said there will be an inquiry into what happened. 
Speaking on RTÉ's Six One, he said they did not know what caused the vessel to get into difficulty, "whether it was a heavy swell or a rogue wave, we are unsure."
"They obviously got thrown into the water and unfortunately we lost a colleague. Our other colleagues have been rescued."
Manuel Di Lucia, a founding member of the former Kilkee Marine Rescue, said the incident would have a devastating impact on the coastal community.
"These people have been carrying out these operations for the last three years, the coxswain was a former member of the marine rescue. It's very tragic for the whole area.
"There's a lot to be learnt from this incident."
Irish Coast Guard helicopter involved in rescue operation off Co Clare coast https://t.co/bmFeEnozYd pic.twitter.com/zLy8AS5Uqi

— RTÉ News (@rtenews) September 12, 2016
Minister Shane Ross pays tribute to Coast Guard volunteer Caitríona Lucas and her colleagues around the country. https://t.co/E7ghq07poV

— RTÉ News (@rtenews) September 12, 2016