North Korea has demanded that the United States recognise it as a "legitimate nuclear weapons state" following its fifth and largest atomic test.
"(President Barack) Obama is trying hard to deny the DPRK's (North Korea's) strategic position as a legitimate nuclear weapons state but it is as foolish an act as trying to eclipse the sun with a palm," said a foreign ministry spokesman quoted by the official KNCA news agency.
The US and Japan are seeking "the strongest possible" measure to be taken against North Korea in response to Friday's test, a top US envoy has said.
The North carried out its fifth nuclear test two days ago, claiming that it had successfully tested a nuclear warhead, and drawing global condemnation.
Sung Kim, the US State Department's special representative for North Korea policy, also suggested that the US may launch its own sanctions in response to "the provocative and unacceptable behaviour by the North Koreans."
"We will be working together very closely in the Security Council and beyond to come up the strongest possible measure against North Korea's latest action," Mr Kim told reporters in Tokyo after meeting his Japanese counterpart Kenji Kanasugi.
"In addition to sanctions in the Security Council, both the US and Japan, together with the ROK (South Korea), we will be looking at unilateral measures," Mr Kim said, without going into further detail.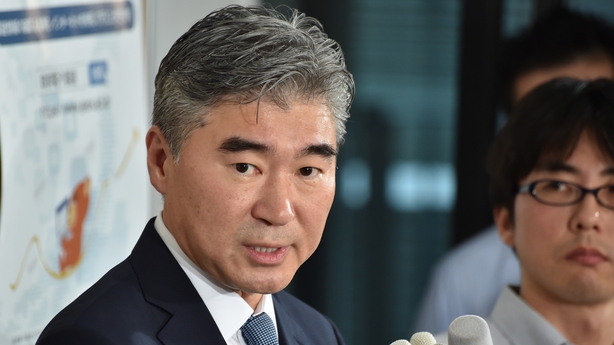 North Korea has been hit by five sets of UN sanctions since it first tested a nuclear device in 2006, but has insisted it will continue, come what may.
The international community has engaged in a flurry of diplomacy in an attempt to persuade China to use its leverage to persuade Pyongyang to comply with UN sanction resolutions.
China has said it "firmly opposes" the test, but analysts believe Beijing wants to avoid a collapse of North Korea in order to prevent the balance of power on the Korean peninsula from leaning towards the US.
The US's "dialogue" with China over the crisis will continue, Mr Kim said.
"We continue to work together to urge China to implement existing Security Council resolutions ... and to work with us to make sure North Korea's behaviour and their deliberation change in a more productive and positive direction," Mr Kim said.
"North Korea continues to present growing threats to the region, to our allies and to ourselves. We will do everything possible to defend against that growing threat," he said.
South Korean president to meet opposition after nuke test
South Korean President Park Geun-Hye will meet political party leaders tomorrow following North Korea's nuclear test, amid speculation she will urge them to ease opposition to a US missile defence system.
A presidential spokesman confirmed the meeting with leaders of the three parties but gave no details of the subject.
Yonhap news agency quoted an unidentified presidential official as saying Ms Park would seek cooperation from both her conservative ruling party and liberal opposition parties for her handling of the nuclear threat.
On Friday North Korea staged its fifth and most powerful atomic detonation, describing it as a test of a nuclear warhead for a missile.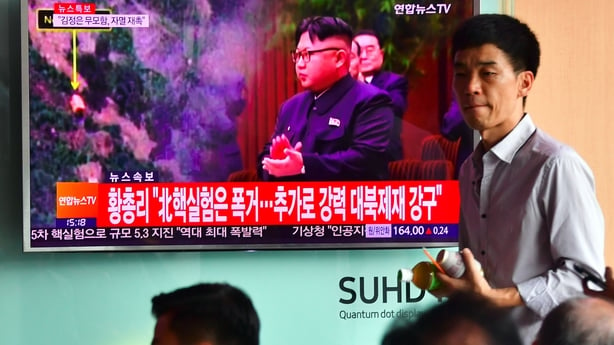 Ms Park cut short her visit to Laos and returned home, summoning a meeting of top officials to urgently review defences against what she termed "imminent" nuclear threats from the North.
At Friday's meeting, Ms Park urged opposition parties and other opponents to stop "politically-motivated fault-finding such as objections to the deployment" of the highly-sophisticated US missile defence system.
South Korea in July announced plans to deploy the Terminal High Altitude Area Defence (THAAD) system in the south of the country to counter growing nuclear and missile threats from the North.
China, which believes the system's radar could also be used to track its own defences, objected strongly. Its leader Xi Jinping argued that "mishandling" the issue could intensify regional disputes when he met Ms Park on the sidelines of the G20 summit in Hangzhou tomorrow.
The plan has also met resistance from residents of Seongju county, the planned venue for the deployment.
Opposition parties oppose the THAAD deployment, saying it would only escalate a regional arms race and hurt ties with the country's biggest trading partner China.
They say its usefulness against the North's military threats is in any case doubtful.