US President Barack Obama has vowed to push for new international sanctions in retaliation to North Korea's latest nuclear test, condemning it as "a grave threat to regional security and to international peace and stability."
Earlier, North Korea announced that it conducted its fifth nuclear test, hours after seismic monitors detected a blast near the country's nuclear test site.
The US leader consulted by telephone with South Korean President Geun-Hye and Japanese Prime Minister Shinzo Abe following news of the reclusive country's most powerful test.
"We agreed to work with the UN Security Council, our other Six-Party partners, and the international community to vigorously implement existing measures imposed in previous resolutions, and to take additional significant steps, including new sanctions," Mr Obama said in a statement.
.@POTUS makes a statement on North Korea's nuclear test: https://t.co/3QqCs9A9Bp pic.twitter.com/AaEnck1uGb

— The White House (@WhiteHouse) September 9, 2016
The UN Security Council is due to meet later to discuss the nuclear test.
The 15 council members will meet this evening for urgent consultations, at the request of the United States and Japan.
North Korea's state TV said the North was now capable of mounting nuclear warheads on ballistic rockets.
It said no leakage of nuclear material had occurred in the test and that there was no environmental impact. The test, if confirmed, is "deeply troubling and regrettable", the head of the UN atomic watchdog said.
"This is in clear violation of numerous UN Security Council resolutions and in complete disregard of the repeated demands of the international community," Yukiya Amano, head of the International Atomic Energy Agency, said in a statement.
Japanese Prime Minister Shinzo Abe called the nuclear test "absolutely unacceptable".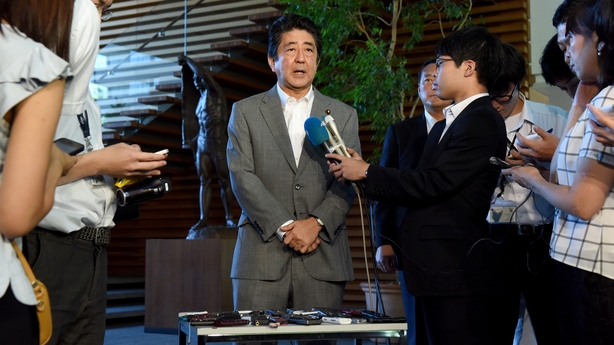 "North Korea's nuclear development is becoming a graver threat to Japan's safety and severely undermines the peace and safety of the region and the international community," Mr Abe said.
"Japan lodges a serious protest against North Korea and condemns it in the strongest language," he added.
China called for all parties in the international community to exercise restraint following North Korea's confirmation of its latest nuclear test.
North Korea's nuclear test is "not wise", but South Korea's decision to deploy an advanced US anti-missile system has also seriously damaged regional strategic balance, the country's official Xinhua news agency said in a commentary, in China's first official reaction to the test.
The US Geological Survey reported a 5.3-magnitude seismic event, near a nuclear test site in the northeastern part of North Korea.

The event at 9am local time had a zero depth. Its epicentre was 18km east-northeast of Sungjibaegam, the USGS said.
Minister for Foreign Affairs Charlie Flanagan expressed grave concern at the missile test.
"This constitutes the second reported test this year, and represents a real threat to peace and security on the Korean Peninsula, and the entire North East Asia region," he said.
"The reported test is the latest in a series of provocative actions undertaken by North Korea this year, and is a flagrant violation of its international obligations not to produce or test nuclear weapons.
"It shows a blatant disregard for recent efforts of the international community to encourage North Korea to cease such actions."
US Assistant Secretary of State Daniel Russel said he was committed to working closely with Japan, China, Russia and South Korea to put pressure on North Korea after the test.

"The fact is, there is an accelerated pattern of very serious provocation that violates international law and threatens regional stability," Mr Russel told reporters before meeting Japanese Foreign Minister Fumio Kishida.
NATO Secretary General Jens Stoltenberg added to the growing condemnation of the test telling Pyongyang it must drop all nuclear and ballistic missile activities.
Mr Stoltenberg said in a statement that reports of NorthKorea's latest test were "very disturbing".
"I strongly condemn these consistent provocations and violations of binding UN Security Council resolutions which undermine regional and international security," he said.