Barack Obama has said Republican nominee Donald Trump is unsuitable to be president of the United States.
His comments come after Mr Trump declared that Russia's Vladimir Putin had been a better leader than Mr Obama.
"I don't think the guy's qualified to be president of the United States, and every time he speaks, that opinion is confirmed," the US President said.
Mr Obama, who was in Laos for a summit with South East Asia leaders and his final trip to east Asia, said that Mr Trump holds contradictory and "outright wacky ideas" and is "uninformed".
"I can tell you from the interactions I have had over the last eight or nine days with foreign leaders that this is serious business," Mr Obama added.
"You actually have to know what you are talking about and you actually have to have done your homework. When you speak, it should actually reflect thought out policy you can implement."
Mr Trump raised eyebrows by saying that Russia's president was "far more" of a leader than Obama.
Mr Putin is "very much of a leader," he said in a televised interview.
"It's a very different system, and I don't happen to like the system. But certainly in that system he's been a leader, far more than our president has been a leader."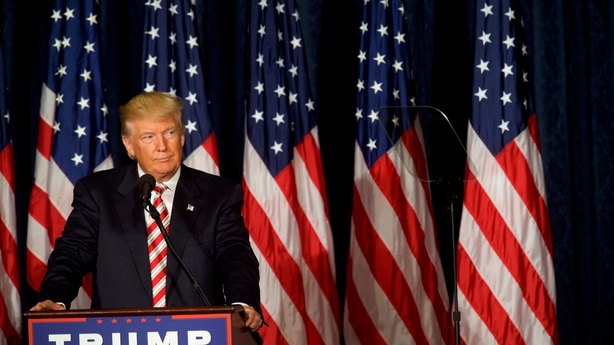 His praise of Mr Putin and his suggestion that the US and Russia form an alliance to defeat the so-called Islamic State could raise eyebrows among foreign policy experts who feel Moscow is interfering with efforts to stem the Syrian civil war.
"If he says great things about me, I'm going to say great things about him," Mr Trump said of the Russian president.
Mr Trump also drew fire for criticising the military.
"The generals have been reduced to rubble," he said, before noting he had "faith in certain of the commanders".
The Republican nominee will face Hillary Clinton in November's election, which the Democratic former first lady is tipped to win.
It was the first time Mr Trump and Mrs Clinton had squared off on the same stage since accepting their parties' presidential nominations in July for the 8 November election.
Moderator Matt Lauer doggedly pressed her about her handling of emails from a private server while secretary of state from 2009 to 2013. The issue has raised questions about whether she can be trusted to serve as president.
Mrs Clinton said none of the emails she sent or received were marked top secret, secret or classified, the usual way such material is identified.
FBI Director James Comey had declared her "extremely careless" in her handling of sensitive material but did not recommend charges against her.
"I did exactly what I should have done and I take it very seriously, always have, always will," she said.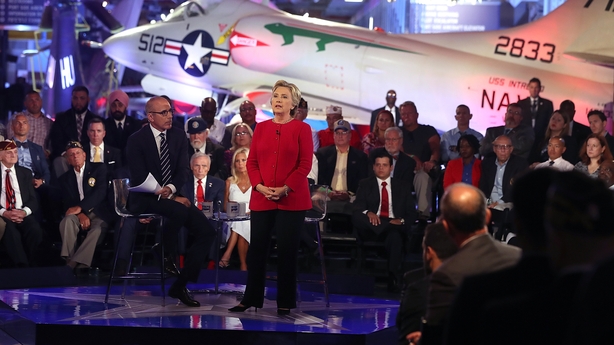 Mr Trump has previously angered many in the military community with mocking remarks against US Senator and former prisoner of war John McCain for being captured in Vietnam.
Mr Obama is expected to hit the campaign trail with Clinton when he returns to the United States, with voter turnout likely to be a key theme.
He won the 2008 and 2012 presidential elections handily by mustering large numbers of young, black, Latino and Asian voters to go to the polls.