European Council President Donald Tusk has met with the Taoiseach in Dublin ahead of next week's summit of European leaders on the future direction of the EU in the wake of the Brexit vote in the UK.
Mr Tusk declared Europe must deliver security and order as people increasingly turn away from what they view as "irrational openness" and see the world getting more chaotic.
The European Council president said next week's meeting of EU leaders - the first without Britain - must confront the future "without taboos".
Speaking at Government Buildings after meeting Mr Kenny, Mr Tusk suggested the gathering will be about forging a new direction after the Brexit result.
"People are turning against what they perceive as an irrational openness," he said.
"They see the world around them getting more chaotic."
Key issues are migration, terrorism and injustices linked to globalisation as key issues, he said.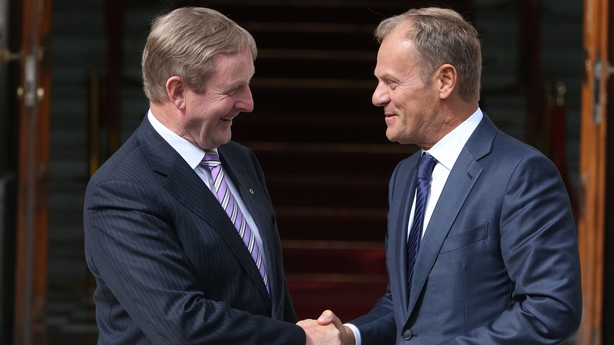 "We have to confront such issues with real and uniform political leadership," he said, adding that it was the collective responsibility of country leaders and not EU institutions.
"What must be delivered is a sense of security and order," he said.
"We in Europe cannot build a political community only on the concept of mandatory and total openness for everyone."
Mr Tusk said the Bratislava summit must show that the "political elites in Europe are not detached from reality".
We need your consent to load this rte-player contentWe use rte-player to manage extra content that can set cookies on your device and collect data about your activity. Please review their details and accept them to load the content.Manage Preferences

The gathering on 16 September has been billed as an informal meeting of the leaders of the remaining 27 member states of the EU.
British Prime Minister Theresa May has not been invited.
Mr Tusk has been on a whistle-stop tour of European capitals ahead of the talks in the Slovakian city.
Technically, EU leaders cannot start negotiations on post-Brexit Europe until Britain triggers the Article 50 mechanism for leaving, but Bratislava is widely expected to be a start of talks about the way forward.
"The Bratislava summit is not about Brexit per se - it is about bringing back political control of our common future," Mr Tusk said.
Turning to specific problems for Anglo-Irish relations, he said Brexit "is a very disorientating prospect" for Ireland.
"You are a committed EU member," he said.
"Sooner or later your biggest trading partner and the country with which you share a long history will not be.
"The consequences of this are serious, and also for the situation in Northern Ireland.
"The Taoiseach and I are working together closely to ensure that your country does not suffer from a decision it did not make."
Mr Tusk said Ireland is and always has been a respected voice around the European table, adding: "Without Ireland's sacrifice and example the European Union would be in a worse situation now, and we know it."
Mr Kenny said Bratislava should be the start of a "new dimension" that looks to the future in Europe.
Neither leader would comment in any depth on Europe's ordering of Apple to pay Ireland €13bn in back taxes.
Mr Kenny said he explained the reasons for Dublin's decision to challenge the ruling - which was being debated in the Dáil today - while Mr Tusk said it was now a matter for the courts.
Tusk to discuss Brexit in first meeting with new PM
Mr Tusk will meet British Prime Minister Theresa May tomorrow to discuss Brexit.
It will be the pair's first bilateral meeting since Ms May took office in July, following Britain's vote to leave the EU.
"It will be an opportunity in part to talk about the process of leaving the European Union, how we see the upcoming months," Ms May's spokeswoman told reporters.
The spokeswoman said Mr Tusk and Mr May would also discuss issues on the agenda for the October meeting of EU leaders, including migration, trade and Ukraine.
Ms May has said Britain will continue to play a full role in the EU until it leaves the bloc, a process which will take at least two years.