The National Transport Authority has confirmed that Dublin Bus will face fines of €200,000 a day when the company's workforce goes on strike for six days this month.
Asked about the fine for tomorrow when the service will shut at 9pm to allow vehicles to return to their depots ahead of a two-day strike, a spokesperson said the fine would be proportionate, depending on the services delivered or not delivered on the day.
She said it had yet to be calculated.
The company has estimated that apart from the fines, the strike will cost it around €600,000 a day, even after factoring in that it will not be paying staff.
In a statement, Dublin Bus said it will have no option but to terminate all routes at 9pm tomorrow to ensure buses are back in their depots before the strike commences at midnight tomorrow.
The strikes will disrupt the travel plans of 400,000 passengers a day.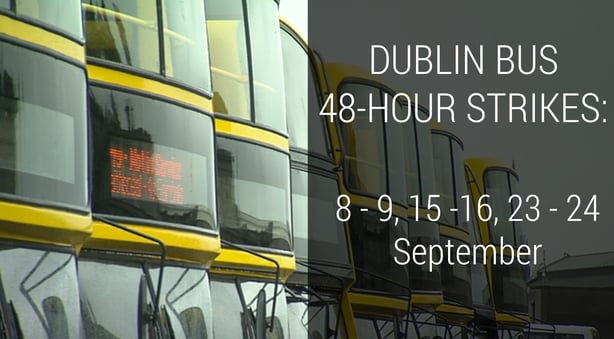 Dublin Bus confirmed that none of its usual routes, sightseeing tours or Airlink services will operate on Thursday or Friday while the company's Ghostbus Tour will also be cancelled tomorrow.
In addition, the Nitelink service will not operate on Friday night/Saturday morning even though the strike ends at midnight on Friday.
The strike will also hit administrative services at the company so its head office and customer service phone lines will be closed on both strike days.
The company said it would make every effort to avoid disruption to services and to find a resolution to the matter, and urged unions not to engage in the industrial action, which would cause unnecessary inconvenience to customers.
It advised passengers to consult its website www.dublinbus.ie for regular updates.
The dispute arose after Dublin Bus unions rejected a Labour Court recommendation of a general 8.25% pay award for all its 3,364 employees over three years (or 2.75% per year) without productivity changes.
It is also prepared to engage in grade-by-grade discussions for further increases subject to productivity concessions but said it does not have resources to exceed the current proposals.
Dublin Bus returned a profit of €10.5m in 2015 but says that having come through years of financial instability and change, it has a responsibility to continue to manage its finances to safeguard its economic financial and economic stability.
It warned that the strike has the potential to undo the financial stability achieved in recent years.
However, unions say that they will not settle for less than the 3.8% per year award secured by Luas staff earlier this year with its 2,500 drivers also seeking full parity with Luas drivers.
Unions criticise Wednesday night stoppages
SIPTU divisional organiser Owen Reidy has described the 9pm stop to allow buses to return to their depots before the strike starts at midnight as "unnecessary".
He said Dublin Bus drivers had committed to completing their shifts even if this meant returning buses to their garages after the official start of strike action at 00.01 on Thursday.
The National Bus and Rail Union has also described the move as "inflammatory".
"It seems that Dublin Bus are determined to unnecessarily ratchet up the pressure on its own customers to make alternative arrangements at short notice in order, as we see it, to paint its own staff in a bad light," said NBRU General Secretary Dermot O'Leary.
However sources at Dublin Bus have rejected the claims.
The company sources said that while drivers might be prepared to work after midnight, other staff responsible for the safe parking and shunting of vehicles within the depots would be gone from midnight so all that work would have to be completed before then.
Mr Reidy said that since staff voted overwhelmingly for industrial action last month, there had only been one one-hour meeting where management confirmed that it was not willing to improve on the Labour Court recommendation rejected by members.
He accused the company of being intransigent and obstructive, adding that it ran the risk of provoking a long and damaging dispute.
SIPTU organiser John Murphy said that since Dublin Bus returned to profitability in 2014, passenger numbers, revenue and fares had all risen, but pay had remained stagnant.
Four further strike days are scheduled on 15, 16, 23 and 24 September.