All but one of Ireland's universities have fallen in international university rankings published today.
The tables, compiled by an organisation called QS World University Rankings, see Trinity College and UCD slide by 20 and 22 places respectively.
NUI Galway, however, has risen 22 places.
According to the QS rankings, Trinity College remains Ireland's top-performing university, at 98th place internationally.
UCD is 176th, while NUIG has made it into the top 250, now at 249th. 
University College Cork has fallen 50 places to 283rd.
Ireland's other universities are ranked lower and have all seen their positions fall compared to last year.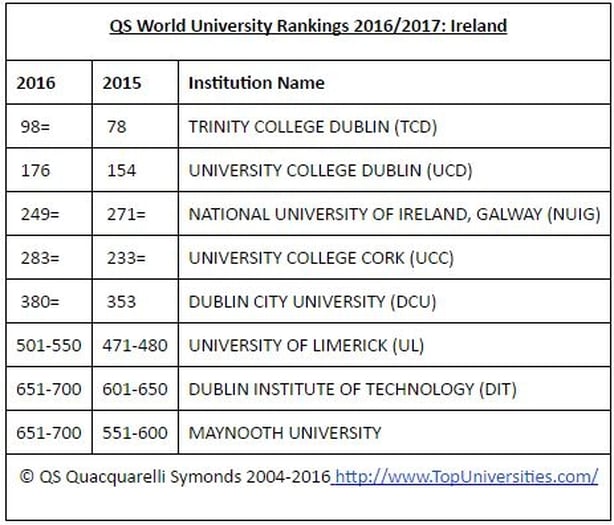 In a joint statement issued to coincide with the publication of the tables, UCD and Trinity College say the decline of Irish universities is the inevitable result of years of under investment by Government.
The two universities said that although such ranking systems have their limitations, the findings reflect the reality that successive governments have not invested sufficiently in Irish education.
They point to data from the Department of Education which shows Ireland coming 29th out of 32 OECD countries in terms of its third-level expenditure.
In the statement the universities' two presidents call jointly on the Government to implement the Cassells Report on third-level funding.
That report, published several months ago, said significant additional investment was vital for the sector.
It outlined a series of options which included the introduction of higher fees for students as part of a deferred payment scheme.
The presidents of Trinity College and UCD said the political system must now make "difficult choices" to improve third-level funding.
They have called for "a significant start" to be made in the forthcoming budget.
General Secretary of the Irish Federation of University Teachers Mike Jennings has warned that the status and viability of Irish universities is being brought to breaking point.
Speaking on RTÉ's Morning Ireland, Mr Jennings said: ""This is the absolutely inevitable consequence of the cut in funding combined with the increase in student numbers in Irish universities… the ranking of Irish universities has been dropping year by year over the last number of years."
He added: "We now have 23 students to every academic member. In 2007 it was 19 and the higher education report had said that ratio was too high."
Mr Jennings said it was not sustainable to have a 30% cut in funding for universities and 20% increase in students.
"Something has to give and it is giving on a daily basis. This is a real wake up call."
The chair of the Expert Group on Third Level Funding said a stronger focus is needed and more money needs to be invested in student support at Irish universities. 
Peter Cassells said: "There has been a concentration on the money going into universities but less of a concentration on students and the fact that it is difficult and expensive to go to university.
"Not just the €3,000 registration fee but the actual cost of being away from home. We said therefore €100 million needs to be put into student support." 
He said between now and 2021 around €600 million or €120 million per annum needs to be invested in third level education - an average €8,000 to €10,000 per student.
Mr Cassells said the group's research was not focused on university rankings but more on the student experience.
"What we found is that we are coming out of crisis, trying to build a recovery, and we need a quality of people who can create jobs or take up new jobs. That requires more investment in higher education and the quality of the student experience."