A boil water notice has been issued affecting nearly 50,000 people in Co Mayo after a water sample detected the presence of the cryptosporidium parasite in the Lough Mask Regional Water Supply Scheme.
The parasite can cause gastrointestinal illnesses including diarrhoea.
Irish Water and Mayo County Council issued the notice to protect consumers following advice from the Health Service Executive.
The areas covered include the towns of Castlebar, Westport, Claremorris, Ballinrobe and Ballyhaunis, and areas surrounding them - as well as rural group water schemes connected to the Lough Mask supply.
Mayo County Council said it will continue to liaise with the HSE with a view to lifting the notice "as soon as practicable".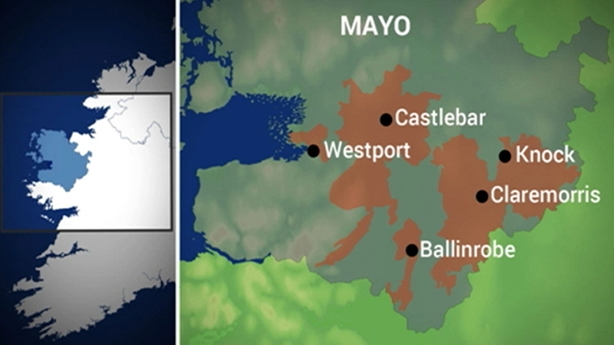 Irish Water, Mayo County Council and the HSE will meet later today to discuss the the presence of the cryptosporidium parasite in the Lough Mask scheme.
Irish water said an investigation will be carried out to ascertain how the parasite got into the water supply and actions that will be taken to clear it.
Actions that have already been taken to protect the public will also be discussed, it added.
Irish Water said the water supply is routinely checked every week and there has not been a detection on this scale in five years.
An Irish Water spokesperson said there was one minor detection last year.
They said they cannot determine how long the notice will remain in place as that is a matter for the HSE.
Regular testing will be carried out over the next number of days and results will be shared with HSE officials.
The cryptosporidium parasite has an incubation period of two weeks.
Irish Water said vulnerable customers or those with certain illnesses would have been contacted by the utility to inform them of the boil water notice.