Hundreds of people attended the funeral mzass for the Hawe family in Castlerahan, Co Cavan today.
The family members, who died in a suspected murder-suicide, were found dead at their home in Barconey near Ballyjamesduff last Monday.
Gardaí believe Mr Hawe killed his wife and children in their home at Oakdene, in the townland of Barconey near Ballyjamesduff, Co Cavan, before taking his own life.
The remains of Alan Hawe, his wife Clodagh, and their three sons, Liam, Niall and Ryan were brought to the church in five separate hearses.
Their coffins were carried inside the church by members of the local community.
Chief mourners included Ms Hawe's mother, Mary Coll, and Mr Hawe's parents, Stephen and Olive.
Staff and pupils from Castlerahan and Oristown national schools - where Alan and Clodagh Hawe worked - also attended the funeral.
During the mass chief celebrant and local parish priest, Fr Felim Kelly, told the congregation that the Clodagh and Alan Hawe's families were "united in support and brokenness".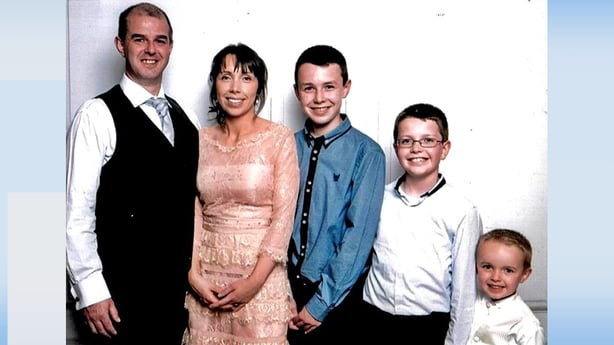 In his homily, Fr Kelly said the community was trying to cope with a tragedy beyond their understanding, and he asked how the goodness of the Hawe family could have been destroyed, and their happiness invaded.
But he said it was not up to those left behind to seek answers.
Fr Kelly said Alan and Clodagh Hawe had been readers at the church, and Liam and Niall had been altar boys and all three children were members of the church choir.
Gifts were placed on the coffins during the service - a family photograph on Ms Hawe's coffin and a Kilkenny jersey on Mr Hawe's coffin.
A basketball, trophy and teddy bear were placed on the boys' coffins.
Bishop Leo O'Reilly, the Bishop of Kilmore, concelebrated the Mass.
The family were buried after the mass in the adjoining cemetery.
Mourners who wish to make donations have been asked to support Pieta House, the charity which provides therapy services for those in suicidal distress.