The head of the Irish Sports Council has warned that funding may be cut to Ireland's Olympic boxers following the team's performance at the Rio games.
Despite high expectations, the team of seven boxers who competed at the games failed to win any medals.
In London 2012, boxers won two bronze, one silver and one gold medal.
Speaking on RTÉ's Morning Ireland, John Treacy said: "If you are not performing it will affect funding, without a shadow of a doubt.
"If sports are not following what we believe is the right path in terms of high performance, you would see reductions in high performance funding."
Asked specifically about funding to the Irish Athletic Boxing Association, Mr Treacy said: "That is a matter for the board of Sport Ireland but we would be carrying out a high performance review, and that work is now starting.
"We will look at the boxing programme and the reasons why it didn't perform as expected."
In a statement this afternoon, the IABA said it had begun the process of a full review of its high performance programme.
"The IABA intends to incorporate any recommendations that emerge from the review into our 2020 Strategy, the development of which has been underway for a number of months.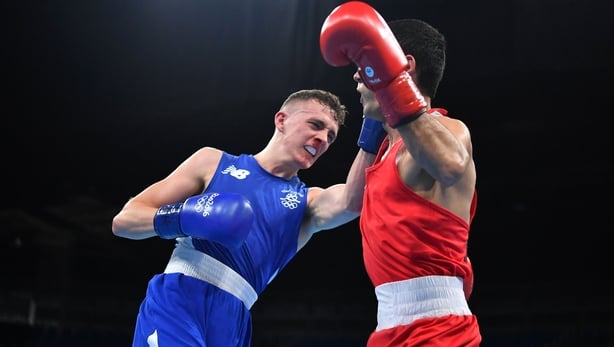 Mr Treacy said he wanted boxers to make greater use of the new high performance gym at the National Sports Campus in Abbotstown.
The €4m facility, which contains a dedicated boxing centre with five rings, was not used regularly by the team in the lead in to the Rio Olympics.
"They didn't want to move out of South Circular Road because they thought it might be disruptive to the team. There is a world class gym here for boxers. We want to see them in here on a regular basis. That will have to happen."
The Sunday Business Post reported last weekend that the IABA had encountered logistical issues around accommodation and nutrition and undertook the majority of its pre-Olympic training in the National Boxing Stadium.
This afternoon, IABA said it will be using the Abbotstown facility "more extensively between now and the 2020 Olympic Games in Tokyo as other areas of the Campus still under development are completed."
The Association continued: "Irish boxers have won a total of 52 medals across all age categories at European and World level since the beginning of 2015.
"We believe that this, along with our strong track record in winning medals on the international stage, is a very solid platform from which to build for future Olympic success."