Brazil's Dilma Roussell has been stripped of the country's presidency in a Senate impeachment vote, ending 13 years of leftist rule in Latin America's biggest economy.
Senators voted by a majority of 61 to 20 to remove Ms Rousseff from office on the grounds that she illegally manipulated the national budget. 
Ms Rousseff, who was the country's first female president, denied any wrongdoing and said the impeachment process was aimed at protecting the interests of the country's economic elite.
The country's ex-vice president, Michel Temer, was sworn in as the new president after the Senate vote.
Mr Temer raised his hand and swore to uphold the constitution, drawing loud applause from his conservative supporters at the swearing-in ceremony in a packed Senate chamber.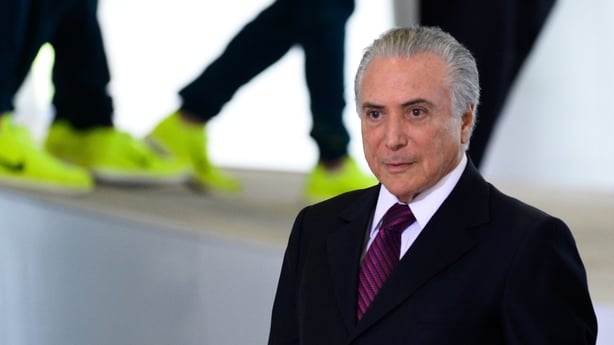 He had vowed to pull the economy out of its worst recession since the 1930s and implement austerity measures to plug a growing budget deficit that cost Brazil its investment-grade credit rating last year.
But the vote to remove Ms Rousseff does not mean an easy path ahead for Mr Temer, as there are signs of clear resistance in Congress to his proposals to cap public spending and reform public pensions.
His government also risks entanglement in a sweeping investigation of kickbacks at state oil company Petrobras that already ensnared dozens of politicians in Ms Rousseff's coalition.
The scandal, which has tarnished Mr Temer's Brazilian Democratic Movement Party, could hobble efforts to restore stability to Brazil's politics and confidence in its economy.
Ms Rousseff's popularity fell into single figures this year due to the Petrobras graft scandal and the deep recession that many Brazilians blame on her government's interventionist policies.
Venezuela freezes ties with Brazil after Rousseff removal
Venezuela has announced that it was withdrawing its ambassador from Brazil and freezing ties with its neighbour in response to Ms Rousseff's removal from office.
The foreign ministry condemned move as a "parliamentary coup d'etat."
Venezuela "has decided to definitively withdraw its ambassador in the Federal Republic of Brazil, and to freeze political and diplomatic relations with the government that emerged from this parliamentary coup," it said in a statement.
It comes as Venezuela's President Nicolas Maduro finds himself under mounting pressure to submit to a recall election amid a devastating economic crisis.
The opposition has called for a massive march in Caracas tomorrow, raising the stakes in a volatile showdown.
Ecuador also recalled its top diplomat from Brazil today, with leftist President Rafael Correa calling the senate vote against Ms Rousseff "an apology for abuse and treason."
"Never will we condone these practices, which recall the darkest hours of our America," he said on Twitter.
Ecuador's foreign ministry called Ms Rousseff's removal "a flagrant subversion of the democratic order in Brazil."