Fr Peter McVerry of the Peter McVerry Trust has said the latest figures of homeless children in Dublin are shocking.
The number of children in Dublin who do not have a permanent home rose past 2,000 for the first time last month.
Speaking on RTÉ's News at One, he said it has become the norm now.
"We have almost one thousand families who are homeless with 2,020 children who are homeless. That is an appalling indictment on a country like Ireland."
He said while he welcomes Minister for Housing Simon Coveney's plan to tackle housing, it is not going to kick in for some time and by the time it does the numbers will be much worse than they are now.
2,020 children from 993 families are in emergency accommodation, an increase from just under 1,900 in June, a 71% increase since last July.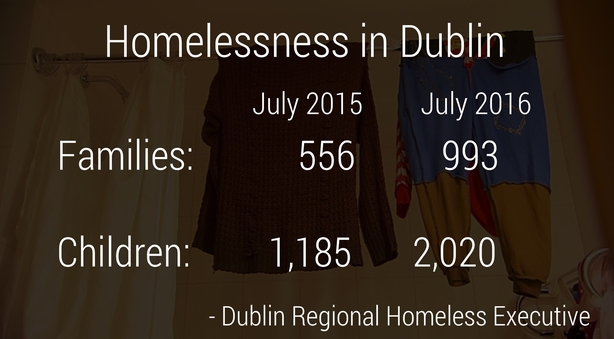 "The conditions they are living in are absolutely appalling with many living in hotel bedrooms."
He said the consequences of leaving families in these conditions for a long time are going to affect them for the rest of their lives.
He said that the hotels are not doing the Government any favours as they are not giving any discounts, adding that while rent supplements have been increased by 15%, realistically they need to be raised by 30% to meet the rents required.
He said two measures are required immediately: "I think we need emergency legislation to prevent the banks and landlords from evicting families, particularly those with children, into homelessness.
"They should not be allowed to put families on to the streets unless they have been offered and accepted alternative suitable accommodation.
"Secondly we need compulsory purchase orders on empty buildings lying around the place and not being used."