Police in Brazil say they are investigating whether three Irishmen, whose passports they have confiscated, were involved in the illegal sale of tickets for the Rio Olympics.
The Civil Police in Rio de Janeiro have issued a statement regarding their actions against Kevin Kilty, Dermot Henihan and Stephen Martin.
All three are officials of the Olympic Council of Ireland.
Police in Rio say that they completed mandates yesterday for the search and apprehension of the passports of the three men.
The police say their investigations are ongoing.
There is still nothing to demonstrate any impropriety on the part of these individuals and no charges have been brought against them.
The three men are due to give depositions to the police in Rio tomorrow morning.
Concern has been expressed for the health of Mr Henihan, and it is believed a meeting took place yesterday between him and the Irish Ambassador Brian Glynn at Mr Henihan's hotel.
Mr Henihan is the honorary general secretary of the OCI.
Mr Kilty is Team Ireland's Chef de Mission for the Rio Olympics and Mr Martin is an OCI official.
Mr Henihan, who is understood to have received medical attention from a doctor in Rio, had intended to fly from Brazil last night but was unable to do so after his passport was seized.
He has another flight booked for Wednesday.
Irish consulate staff in Rio were due to visit former Olympic Council of Ireland president Pat Hickey in prison today.
Mr Hickey was arrested as part of an investigation into alleged illegal tickets sales for the Rio Olympics.
He is being held at Bangu Prison after being denied bail by a judge in the Brazilian capital.
It has also emerged that Mr Hickey is understood to have a second passport and this is now with his lawyers.
Earlier, the Department of Foreign Affairs confirmed it is providing consular assistance to those who have had their passports seized.
Crisis management team to respond to OCI controversy
The Olympic Council of Ireland has appointed a three-person crisis management sub-committee to lead the council's response to the controversy over Rio Olympics tickets.
The decision was taken at the OCI's first board meeting since the crisis, which lasted for five hours at the offices of its legal advisors in Dublin.
The meeting was chaired by Acting President William O'Brien, who had arrived in Dublin from Rio hours earlier.
He is one of three OCI staff members whose passport Brazilian authorities now say they are seeking, along with the passports of OCI official Linda O'Reilly and OCI executive member and Chief Executive of the FAI John Delaney.
There is nothing to suggest any impropriety on the part of these individuals.
After 2.30am three members of the OCI board read a short statement.
Sarah Keane of Swim Ireland, Professor Ciarán Ó Catháin of Athletics Ireland and Robert Norwood of the Snowsports Association of Ireland announced that they are the members of the crisis management sub-committee.
They said the sub-committee will appoint an international accountancy firm to conduct an independent review of ticketing arrangements in Rio.
They said that firm's report will be presented to the judge chairing the State's inquiry.
They would not answer questions but it later emerged that the board had also decided to appoint a Brazilian law firm to represent the OCI's interests there.
It could not be established if the board meeting had been in communication with the members of the board who could not attend because their passports were taken from them in Brazil.
OCI meeting ended after half two and produced this short statement. plenty more on this on Morning Ireland after 7 pic.twitter.com/eCQzJvMOYr

— Colman O'Sullivan (@colmanos) August 22, 2016
Hickey due before judge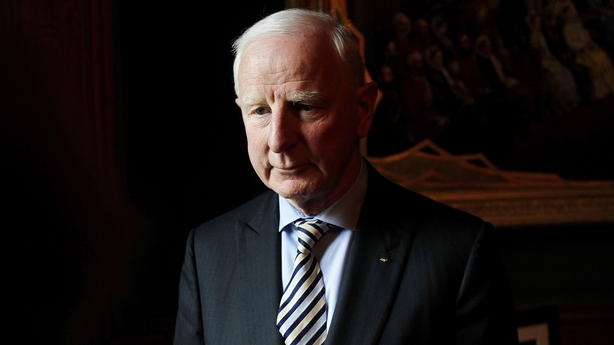 Mr Hickey is due to appear before a judge in Rio de Janeiro tomorrow to face allegations related to illegal resale of tickets for the Olympics.
Mr Hickey has temporarily stepped down as OCI president.
He denies any wrongdoing.
The Chief Investigating Officer has confirmed to RTÉ that all legal files pertaining to the case have been passed on to the Office of the Public Prosecutor.
Mr Hickey's lawyers have said their client is being held on assumptions which, they contend, are not supported by any material evidence or proof.
An application to have Mr Hickey released on bail was turned down last week.
His lawyers have indicated that they will again seek to have Mr Hickey freed from Bangu prison, where he is being held.
Three weeks ago, Kevin Mallon, a director of ticketing agency THG, was arrested by police in Rio de Janeiro investigating ticket touting.
Brazilian police detained Mr Mallon and Barbara Carnieri who was working as an interpreter at the Rio Olympics on charges of fraudulent marketing of tickets for the Games.