President Michael D Higgins delivered the oration at the annual Michael Collins commemoration in Cork today - the first time for a sitting head of state to do so.
The ceremony took place at Béal na Bláth, the site where the then commander-in-chief of the Irish army was killed in an ambush by anti-treaty IRA forces in August 1922.
President Higgins said it was his "great pleasure" to stand at the Béal na Bláth site "in recognition of Michael Collins' great contribution to Irish independence".
"The memory of Michael Collins will forever be enmeshed with that of the tragic and bloody Civil War which raged on this island throughout the years 1922-1923. This was a dreadful human tragedy for so many Irish families.
"When the time comes, very soon, to commemorate those events of the early 1920s, we will need to display courage and honesty as we seek to speak the truth of the period, and in recognising that, during the War of Independence, and particularly during the Civil War, no single side had the monopoly of either atrocity or virtue," added Mr Higgins.
Meanwhile, in Dublin the Minister for Social Protection Leo Varadkar delivered an oration at the annual graveside commemoration of Michael Collins and Arthur Griffith at Glasnevin Cemetery.
Mr Varadkar said he shares the vision of a united Ireland but that steps towards it must respect diversity and tradition.
He referred to "the crude majoritarianism" of a border poll.
Mr Varadkar also said he believed economic policy must bring about gains for all.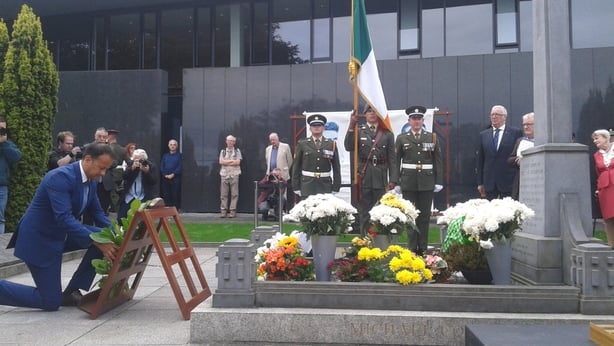 Wreaths were laid at the graves of Arthur Griffith, Eamon Duggan and Michael Collins.
Members of the Irish Defence Forces participated in the event.