Turkish President Recep Tayyip Erdogan has said a suicide bomber aged between 12 and 14 was responsible for the attack on a wedding in the Turkish city of Gaziantep yesterday.
"The explosion was the result of a suicide bomber aged between 12 and 14 who either detonated (the bomb) or others detonated it," Mr Erdogan said at a press conference in Istanbul. 
At least 51 people were killed yesterday evening when the bomber detonated his explosives among people dancing on the street at a wedding party in the southern Turkish city.
Mr Erdogan repeated his assertion that initial information suggested the attack was perpetrated by the self-styled Islamic State group.
Up to 100 people were injured in the attack including the bride and groom, whom Hurriyet Daily said survived the bombing.
He said 69 injured people remained in hospital while 17 were critically injured.
"Wherever this terror comes from, it doesn't change it for us. As a nation, we will use our full strength, united, shoulder-to-shoulder, to fight against terror like we did on July 15," he said, referring to how citizens stopped an attempted bid to oust him from power.
Blood stains and burns marked the walls of the narrow lane where the wedding party was attacked while women in white and checkered scarves cried sitting cross legged and waiting outside the morgue for word on missing relatives.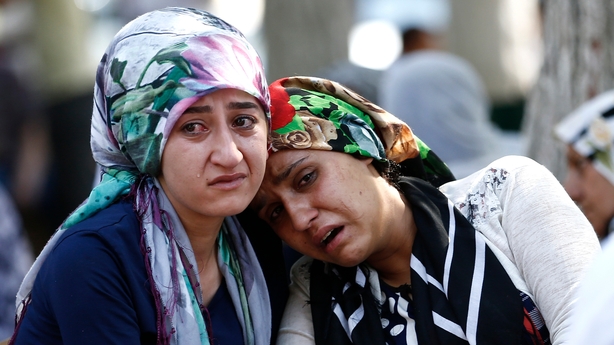 At least 12 people were buried today, but other funerals will have to wait because many of the victims were blown to pieces and DNA forensics tests would be needed to identify them, security sources said.
The pro-Kurdish Peoples' Democratic Party, or HDP, said in a statement that the wedding was for one of its members, and women and children had been among those killed.
Turkey faces multiple security threats from Islamic State militants at home and across the border with neighbouring Syria as well as from the outlawed Kurdistan Workers Party (PKK) Kurdish militant group.
The country is still recovering from last month's attempted coup when rogue troops commandeered tanks and jets in a bid to overthrow the government.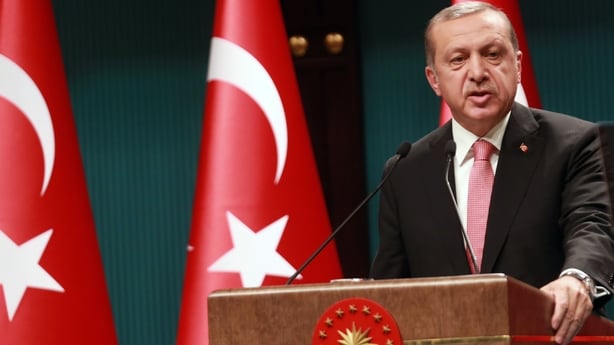 Ankara blames US-based preacher Fethullah Gulen for the 15 July failed putsch. He has denied the charge.
Three suspected Islamic State suicide bombers killed 44 people at Istanbul's main airport in June, the deadliest in a string of attacks in Turkey this year.
Suicide bombers also killed at least 95 people in October last year when they attacked a rally of pro-Kurdish and labour activists outside Ankara's main train station.
Violence flared up again this past week in the largely Kurdish southeast, with bomb attacks leaving ten people dead in separate attacks, mostly police and soldiers, in an escalation that officials blamed on Kurdish PKK militants.
Turkey must meet conditions for visa-free travel, says Juncker
European Commission President Jean-Claude Juncker said today Turks would only be granted visa-free travel to EU countries from October if Ankara meets all the requirements, including reforming anti-terror laws.
Earlier this month, Turkish Foreign Minister Mevlut Cavusoglu said his government could stop helping to stem the flow of refugees and migrants to Europe if the 28-nation bloc failed to relax travel rules for Turks from October.
His comments coincided with increased tensions between Brussels and Ankara following the failed coup.
Europe has been alarmed by a crackdown since the coup and has long worried that Turkey's anti-terrorism laws are applied too broadly to quash dissenters and critics of Mr Erdogan.
"The question of visa-free travel, which is directly connected to the agreement on handling refugees, can be implemented on 1 October only if all the conditions are met," Mr Juncker told the European Alpbach forum, an annual conference in Austria.
"Anti-terror laws cannot be used to imprison intellectuals, scientists and journalists. That is not the fight against terror that we mean," he added.