Hillary Clinton has released her tax return for last year and criticised her opponent Donald Trump for failing to honour this tradition among American politicians running for president.
Clinton and her husband Bill, the former president, reported $10.6 million in income for 2015.
They paid $3.6m in federal income tax, according to the document, which was posted on the Democratic presidential candidate's web page.
Over the course of their careers the Clintons have published all of their tax returns since 1977. Democrats repeatedly point to this as evidence of transparency on the part of the power couple.
Clinton's running mate Tim Kaine also released his returns for the past 10 years.
But the billionaire Trump has declined to release his, arguing that his tax returns for the past several years are being audited.
The Clintons' main sources of income were Mr Clinton's paid speeches, to the tune of $5.2m, and a payment to Mrs Clinton from the publisher of her last book, Simon & Schuster, for $3m.
Mrs Clinton gave dozens of paid speeches in 2013, 2014 and 2015 but gave this up before launching her candidacy for the White House in April 2015.
The Clintons also donated a million dollars to the non-profit foundation that bears their name.
The Republican and Democratic candidates in the last nine presidential elections - since Ronald Reagan in 1980 - have released tax returns at least for the previous year, according to Politifact.
Most released their returns for several years, such as Bob Dole en 1996. He did so for the previous 29 years, according to the Washington Post.
In 2012, Mitt Romney released two years' worth of tax returns.
Mr Trump presented the Federal Election Commission with a mandatory personal financial disclosure form in May and says this is enough.
That document gave only an estimate of Trump's assets, liabilities and income.
Trump has said he is worth more than $10bn, but no one has been able to confirm this independently. Forbes magazine estimates Trump is worth less than half that - $4.5bn.
Leading Republicans in call to 'de-fund' Trump campaign - reports
More than 70 influential Republicans have signed a letter urging the party to stop spending money on Donald Trump's presidential campaign and direct it instead to November's congressional races, according to reports.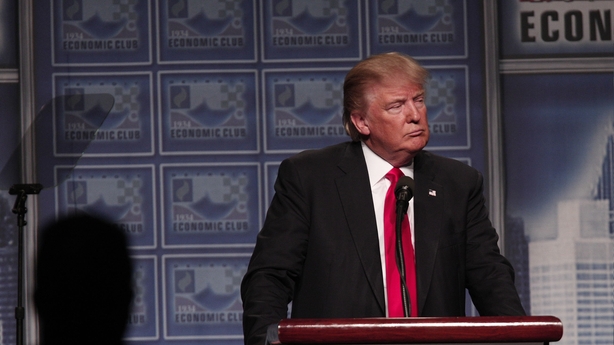 "We believe that Donald Trump's divisiveness, recklessness, incompetence, and record-breaking unpopularity risk turning this election into a Democratic landslide," read a draft text of the letter to Republican National Committee Chairman Reince Priebus, which was obtained by the Politico newspaper.
It called for an "immediate shift" of party funding to Senate and House races, to aid down-ballot Republicans whose own election prospects have been harmed by Mr Trump's unpopularity.
"This should not be a difficult decision, as Donald Trump's chances of being elected president are evaporating by the day," the letter said.
The letter cited various actions by Mr Trump that the signers said have "alienated millions of voters of all parties".
"Those recent outrages have built on his campaign of anger and exclusion, during which he has mocked and offended millions of voters, including the disabled, women, Muslims, immigrants, and minorities," the letter said, according to Politico.
"He also has shown dangerous authoritarian tendencies, including threats to ban an entire religion from entering the country, order the military to break the law by torturing prisoners, kill the families of suspected terrorists, track law-abiding Muslim citizens in databases, and use executive orders to implement other illegal and unconstitutional measures."
So far, the letter has been signed by a number of key former party staff members and officials.
Politico reported that it began circulating this week and is expected to be sent to Mr Priebus next week.