New standards for bereavement care after pregnancy loss and perinatal death have been published by the Health Service Executive.
It says care for parents after a baby's death must be central to the mission of hospitals.
It also says that openness and honesty when things go wrong should form an important part of the bereavement and recovery process.
The national standards document says the HSE is committed to providing an open, timely and consistent approach in communicating with service users and their families when things do go wrong.
The 84-page document says that bereavement care must be integrated with a hospital's overall medical and clinical care response to parents.
It advises that mothers and families need reliable, accurate information given in a sensitive and supportive manner.
It outlines four standards around bereavement care, the hospital, the baby and parents and staff.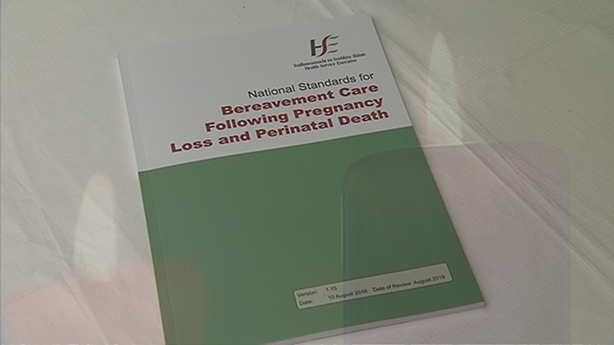 Figures detailed in the report show there were 500 perinatal deaths in 2013, which included 301 stillbirths.
There are also around 14,000 miscarriages a year in Ireland.
There were 26 terminations of pregnancy under the Protection of Life During Pregnancy Act in 2014.
It also says the British Department of Health reported that 3,735 terminations were undertaken in England and Wales in 2014 for women with an address in the Republic.
According to the report, national information on ectopic and other forms of pregnancy loss is not currently available.
While the document uses the term "life-limiting condition" it emphasises that there is no clear or universal term that can be used, or is acceptable to the majority of parents with regard to a baby who has a life-limiting condition, fatal/lethal foetal abnormality/foetal anomaly.
The standards say that parents who receive a diagnosis that their baby will be born with a life-limiting condition should be invited to meet a consultant neonatologist/paediatrician and the appropriate team to discuss the diagnosis.
If they choose to terminate the pregnancy, they are provided with up-to-date information and contact details of the services available, with due regard to relevant legislation.
The document says that bereavement care must be central to the mission of the hospital and offered in line with the religious, secular, ethnic, social and cultural values of the parents who have experienced the loss.
The hospital must have systems in place to ensure that bereavement care and end-of-life care is central and organised around the needs of babies and their families.
Each baby and family should receive high quality palliative care.
All hospital staff should have access to education and training to deliver compassionate bereavement and end-of-life care.
Hospitals to have specialist bereavement team
A consultant obstetrician at Cork University Maternity Hospital has said the care plan will include a specialist bereavement team for each hospital.
Speaking on RTÉ's News at One, Dr Keelin O'Donoghue said that key to the implementation of the plan for parents and families is the resourcing, hiring and staffing of all of the maternity units.
Dr O'Donoghue said pregnancy loss is the most common complication of pregnancy and a "devastating bereavement" for many families.
She said: "From listening to parents over the last number of years, it's clear we have not been providing what all of them have required.
"It's clear that not all bereaved parents are able to access or feel that they are getting the counselling support that is required, or even the specialist medical services that are required."
She said she recognises that, perhaps, there is not a consistent approach across the country in supporting parents who have been given a diagnosis of a fatal foetal abnormality and who travel to terminate that pregnancy.
"What this document does acknowledge is that these standards are applicable to all parents who experience pregnancy loss no matter when in the pregnancy that has occurred and no matter how it has come about."
Dr O'Donoghue said where a prognosis for a baby is "horribly uncertain", there "is a significant piece of work that can be done with parents and families".